The Wedding Dress Diaries by Aimee Carson is a free prequel novella to 'The Wedding Season' series from the HQ KISS line. So far, I've just adored all the KISS novels I've read, so I'm very much looking forward to the books in this series.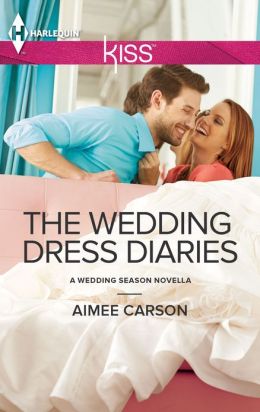 Amber has always believed in love and marriage. So much so that she now owns her own bridal shop. In fact, she's currently helping her oldest friend, Reese, with her wedding. She spent every summer with their family growing up, and she spent most of those summers wishing Reese's brother, Parker, would kiss her someday.
Reese wants nothing more than to start mending fences between her family and her brother, so she enlists Amber's help to talk him into coming for her wedding. He shows up for the engagement party, but that's about as far as he's willing to go. Parker knows – right from the horse's mouth that he was never wanted or needed by Reese and her mother.
Parker's biding his time at the bar, nursing his drink until he can leave without being noticed, when he sees the striking woman nearby. There's something about her… he can't put his finger on it. He starts a discussion, and sparks fly. She's full of sass and he's attracted immediately. Of course, he has no idea until she teases him with clues that she's Amber Davis – the girl that used to follow him around, spying on him – and overhearing his most painful moment.
Amber won't play games, she wants him as an adult so much more than she did when she innocently fawned over him as a girl. She takes the opportunities she's given to talk him into joining the wedding party, but also to seduce him. It's a good thing her store is closed during his fitting, because appropriate it is not.
Parker can't resist Amber, but his pain isn't easy to get past. And she reminds him of it every time he sees her. Can he get past it to forgive his family, and to keep Amber in his life?
For a free read, this is exemplary. I can't wait to read the four main books in 'The Wedding Season' – The Unexpected Wedding Guest by Aimee Carson, Girl Least Likely to Marry by Amy Andrews, Maid of Dishonor by Heidi Rice and Last Groom Standing by Kimberly Lang. I highly suggest giving this book a try – you have nothing to lose!
Book Info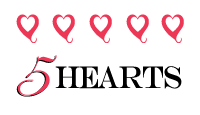 Publisher: Harlequin KISS (June 1, 2013)
Get in the bridal spirit with this prequel novella to the fabulous new Harlequin KISS contemporary romance series, The Wedding Season!
Bridal shop owner Amber Davis dreaded the moment she'd run in to Parker Robinson while working on his sister's wedding. She'd spent every summer in the Hamptons with his family as a kid, fantasizing about kissing him. But she's shocked to discover that the confident boy who'd given Amber her first taste of love has become a man who mocks its very existence.
Parker can't believe the girl who used to follow him around has grown into a beautiful woman—one with some very naughty ideas when she fits him for his tux. But Amber also knows why he's shut everyone out of his life. She's not the kind of woman Parker gets involved with…even if he can't keep his hands off her.
Amber doesn't do one-night stands or casual hookups, but she's wanted Parker long enough to make him an exception—especially if she can convince him he needs love in his life, too.
Look for all four books in the Wedding Season series from Harlequin KISS: The Unexpected Wedding Guest by Aimee Carson, Girl Least Likely to Marry by Amy Andrews, Maid of Dishonor by Heidi Rice and Last Groom Standing by Kimberly Lang.