In Tangled by Emma Chase, Drew Evans has been adored his whole life: by his family, friends, clients, co-workers. And women. Especially women. He's never had more than just a casual encounter with the fairer sex and doesn't feel the need to ever have a long lasting relationship. So when he sees a lovely brunette in a hot NYC bar, he makes his move. Only she politely declines his advances. Drew makes pleasant conversation and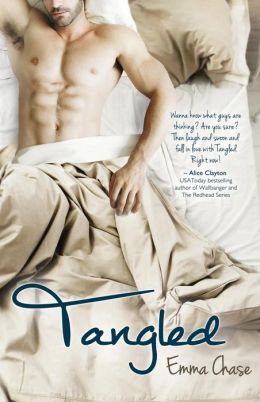 she seems interested when he says what investment banking firm he works for but she makes it clear she's taken. He moves on to other pursuits that night, although oddly enough, Kate keeps popping into his thoughts. Imagine his surprise when Kate Brooks is introduced as the newest employee at work on Monday and that his father (who owns the firm) wants Drew to mentor her. It is both his fantasy and nightmare come true. He would give anything to spend some "quality" time with her but he has a strict policy about not sleeping with co-workers. And so the dilemma begins.
"…I realize this attraction–no, that's not a strong enough word–this need that I have for Kate Brooks isn't just going to go away. I can try and fight it, but I'm only a man, for God's sake. Left unresolved, my desire for her could turn my office, the place I love, into a torture chamber of sexual frustration."
Drew lives and breathes his job and has a solid reputation as the go to person in his industry. He's intrigued to see how well Kate will do in the firm until they are pitted against each other on a very important project. They both want to land the account, so when the gloves come off and the pranks fly, the tension builds between them until they break down and have a lust filled make out session in his office. That's when things start to shift in their relationship. Drew becomes obsessed with her, but not just to get her into bed. Although that is a huge goal. But he also wants her to be successful and happy. He's not sure what's happening to him until it's too late. He actually has feelings for this woman. Deep, could-last-forever kind of feelings and it honestly scares him a bit. He takes a chance by showing her these feelings when the opportunity presents itself, but as is typical, he puts his foot in his mouth and pushes her away. Can he figure out a way to gain back her trust and give Kate everything she deserves in life?
"Apparently I've grown a conscience. I don't know when it happened, I don't know how it happened, but I am not happy about it."
Emma Chase puts a fresh spin on contemporary romance in this story. It is a narrative from the male point of view and she wrote Drew as if he was talking directly to you, the reader, including asking questions and engaging you to be a part of the story. This book is definitely not for the faint of heart, as it may be considered raunchy and explicit by some, but I loved every second of it! Drew calls them like he sees them and is unabashedly all male. So to see him in the process of falling in love is equal parts hysterical and truly wonderful. Even though he is a bit of a playboy (okay…a huge playboy) you can't help but fall in love with him and his raw honesty. If this is Emma's debut novel, I can't wait to see what she offers us next. Seriously…I can't recommend it enough!!
Book Info
Publisher: Omnific Publishing (May 21, 2013)
Drew Evans is a winner. Handsome and arrogant, he makes multimillion-dollar business deals and seduces New York's most beautiful women with just a smile. He has loyal friends and an indulgent family. So why has he been shuttered in his apartment for seven days, miserable and depressed? He'll tell you he has the flu. But we all know that's not really true. Katherine Brooks is brilliant, beautiful, and ambitious. She refuses to let anything-or anyone-derail her path to success. When Kate is hired as the new associate at Drew's father's investment banking firm, every aspect of the dashing playboy's life is thrown into a tailspin. The professional competition she brings is unnerving, his attraction to her is distracting, and his failure to entice her into his bed is exasperating. Then, just when Drew is on the cusp of having everything he wants, his overblown confidence threatens to ruin it all. Will he be able untangle his feelings of lust and tenderness, frustration and fulfillment? Will he rise to the most important challenge of his life? Can Drew Evans win at love? Tangled is not your mother's romance novel. It is an outrageous, passionate, witty narrative about a man who knows a lot about women…just not as much as he thinks he knows. As he tells his story, Drew learns the one thing in life he never wanted is the only thing he can't live without.