In This Gun for Hire by Jo Goodman, Bounty hunter Calico Nash was trained by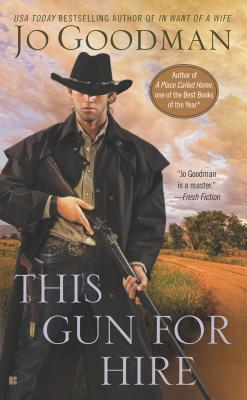 the best: her beloved late father. She has spent years tracking down the bad guys and taking her reward, loving every moment. Well, except for the solitude and lack of a permanent home. Then hunky Quill McKenna steps in to keep her safe during an attempt to take in a criminal. Big mistake. Calico can take care of herself. But when she's given the chance to work with him again, she surprises herself by accepting. Her only fear is that she'll fall even further for the intelligent hero with a smile that lights up her world.
"…Quill McKenna wrote to me. Remember him?"
"Oh, yes. Apollo the Sun God."
"What?"
She shrugged. "That's what I called him."
"To his face?"
"Lord, no. What would be the sense of giving a man already so full of himself another reason to beat his chest?"
Quill McKenna has been tasked with watching out for Ramsey Stonechurch and his family after attempts are made against them. Using his knowledge as both a lawyer and a former member of the army, he's certainly qualified for the job. But Quill can't be in more than one place at a time. So his solution is to call on Calico Nash, the firecracker of a woman who turned his head and earned his admiration for her boldness. What seemed like a good idea turns out to change his life as Quill falls for a woman who will challenge him until his last breath.
"Here it is, Calico, the truth. If I kiss you now, it won't end there. Not this time. I don't mind if you take me for a gentleman, buy you should not mistake me for a saint."
This Gun For Hire was an action-packed, kickass western historical romance that had everything a girl could want: a good guy with just a hint of mystery and trouble surrounding him, an independent, brave heroine with a quick wit, and a mystery to figure out.
So. Much. Fun. This was my first Jo Goodman book (I know, right?) and I can absolutely see what all the acclaim and fuss is about. Right from the start I was knocked out by the quick back-and-forth between Calico and Quill. Their scenes together made me laugh with Calico's attitude and with Quill's inability to lie. Their lively bantering continued throughout the book, making this an absolute breeze to read. Actually, all of the dialogue was very well-written and fitting of the time period
The storyline was an intriguing one, I thought. Calico being a bounty hunter was a great spin on what was considered appropriate back then. I especially liked everyone's reaction when they figured out the attractive young woman in front of them was The Calico Nash. Her reputation as a fierce person to be reckoned with always preceded her.
And Quill certainly appreciated Calico's strength and outspoken manner. They had this way of antagonizing each other while challenging themselves at the same time, which was fun. Quill was actually pretty wonderful himself, as well. He was a stand up guy who always tried to do the right thing. Although he wasn't afraid to take a stand and use his shooting skills when need be. His background was totally different than I at first assumed, so once we got the details it made even more sense how he turned out the way he did.
I think romance fans will truly enjoy Quill and Calico's evolving relationship as well as the winding plot that kept this reader guessing. Highly recommended.
Book Info:

Publication: April 7th 2015 by Berkley
Jo Goodman, a premier writer of western romance and the author of In Want of a Wife, is back with a sensational new novel for fans of Linda Lael Miller and Joan Johnston
He's got a job to do…
Former army cavalryman Quill McKenna takes pride in protecting the most powerful man in Stonechurch, Colorado: Mr. Ramsey Stonechurch himself. But the mine owner has enemies, and after several threats on his life, mines, and family, Quill decides to hire someone to help guard the boss's daughter. Only problem is the uncontrollable attraction he feels toward the fiery-haired woman who takes the job.
…but she's a piece of work.
Calico Nash has more knowledge of scouting and shooting than cross-stitching, but she agrees to pose as Ann's private tutor while protecting her. But between her growing attraction to Quill and the escalating threats against the Stonechurches, Calico will soon have a choice to make—hang on to her hard-won independence or put her faith in Quill to create the kind of happy ending she never imagined…