Special Delivery by Laura Browning: Holly is running from her abusive ex,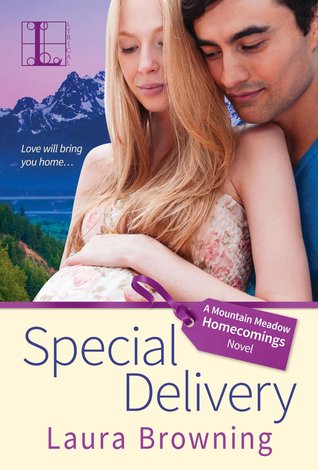 Spence. Pregnant, she takes her brother Tyler, 11, and flees to Mountain Meadow, Virginia.
Jake, the assistant police chief becomes very curious about the new residents. The townspeople are very nice, offering kindness and help to Holly and Tyler but Holly is struggling financially and things get worse when she is put on bed rest. She ignores medical advice and goes into labor during an ice storm. Jake ends up delivering the baby with Tyler's help. After Noelle is born, it's decided that the three of them will move in with Jake. They live in domestic bliss. Jake and Holly become engaged very quickly. However, a threat looms as Spence wants the baby.
There is a secondary story involving a doctor, Jenny and a lawyer, Evan. When they were young, they fell in love and she became pregnant. However, their fathers were willing to do anything to keep them apart. She was gang-raped and miscarried. Evan knew none of this. After he learns the truth, they come together, having never stopped loving each other.
"He gathered her close and simply held her. She leaned into him, feeling the tension recede. With their bodies touching, they drew strength from each other as they always had."
I found Special Delivery fairly anti-climatic. The romance between Jake and Holly happens way too quickly. I would be interested to see what happens to Tyler in the future. The second half of the book is mainly about Jenny and Evan. It all felt a bit choppy to me. There was a lot of explanation and yet it was easy to get lost at times. I recommend Special Delivery to those who like a lot of drama in their love stories.
Book Info: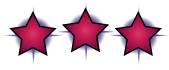 Publication: May 12th 2015 by Lyrical Press
Welcome home to Mountain Meadow, Virginia—a small town with a big heart, where love is just around the corner…
All Holly Morgan wants is a safe place to have her baby. Nestled deep within the Blue Ridge Mountains, miles away from her abusive ex-fiancé, Spence, Mountain Meadow seems perfect. Holly can manage a few meddling church matrons if it means Spence can't find her. Harder to handle is Jake Allred. He may be a dark-haired hunk, but he's also someone Holly can't trust: a cop.
Since his time in the military, Lieutenant Jake Allred has lived to protect and serve. And if anyone needs protection, it's Holly. Having been let down by the law before, she's wary of letting Jake into her life. But when an unexpected snow storm strands them together, their attraction is hot enough to melt the mounting ice. Just when Jake thinks he's finally warmed Holly's heart, Spence strikes. Now it's up to Jake to save Holly's baby and bring their fledgling family back together.