In The Tycoon's Wager by Olivia Logan, CJ Stratt is an agony aunt. Her show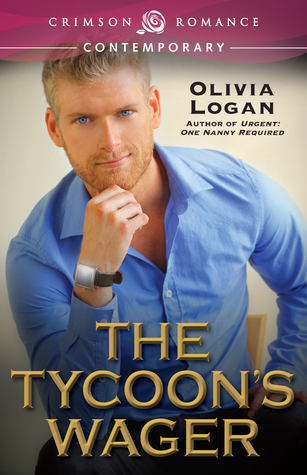 might not be doing as well as it should but she does have it's faithful listeners, like the woman who just called to complain about the man she was dating and then dumped her. But CJ tells it like she sees it, and that man sounds like a playboy who doesn't know how to commit, she should know, she dated a similar man before.
Jake Harper needs his image to be pristine and to shed his irresponsible playboy image. Little do people know that he has always been the brain behind his brother's success. Now that his brother is gone, he needs all the support to be able to insure the business deal that could either make or break his career. So when he gets his car from the mechanic and is unable to change the station he is annoyed and about to turn it off, until he hears a woman complaining about him and an agony aunt ruining his image and making look even more irresponsible than others believe him to be.
His response, call the radio station and try to get them to make a retraction, but mainly clear his name. When he doesn't get the response he wishes on the phone he decides to drop by the station and challenge the agony aunt on 8 dates, where he will prove himself not to be the man she is painting him as.
At first both CJ and Jake are a bit reluctant to see any chemistry or attraction between them. But as they spend more time together and they begin picking apart everything on their dates and realizing what they may have been missing before.
The Tycoon's Wager was a great read that will have you laughing out loud when you least expect it. Jake and CJ have a relationship that they are both reluctant to acknowledge, due to things in their past, but only after being together and seeing the difference in their lives if they are not together, will they realize what true love and happiness is.
If you want a sweet, fun and fast read (or at least that's how it seemed from how much I liked it), don't miss The Tycoon's Wager by Olivia Logan.
Book Info:

Publication: March 23rd 2015 by Crimson Romance
To boost ratings and save her radio show, agony aunt CJ Stratt has no choice but to agree to a publicity proposition from London's renowned playboy Jack Harper. They'll go on eight dates, which she'll tweet about to prove he's not the unreliable wastrel he's been painted as in the press.
Jack's desperate to squelch his irresponsible image to insure that the business deal that could make or break his career goes smoothly. He's willing to do anything, including dating this quirky DJ with pastel-colored hair and a sassy mouth.
Jack knows seduction, but he has no idea how to love. Love is CJ's business, yet she has never been seduced.
Somehow, this business just got personal …