Trouble with Nathan by Anna J. Stewart: Nathan loves being a part of Nemesis with his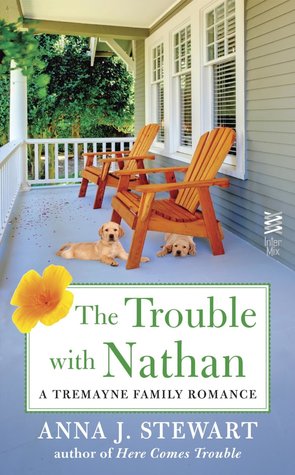 father and sister. It feels good to steal from the wealthy and give back to those who deserve it. But after the additional scrutiny of late and how their family has grown, they have to carefully consider their next steps. It doesn't help that his dad has been framed for stealing the Crown of Serpia.
Nathan isn't looking forward to dealing with an insurance investigator on the case, but he's determined to win them over with his considerable charm. Laurel is determined to find the crown. She's smart, determined, independent, and doesn't trust easily. She's not at all won over by Nathan's claims of his father's innocence.
While each have their own agenda, they decide to work together to locate and recover the Crown. Both have their reasons for keeping the other close that aren't entirely related to the search for the Crown. They have quite a bit in common and they can't entirely ignore their attraction even when Laurel knows it's for the best.
"Working with you definitely has its perks."
"You've no idea." Nathan slipped off his belt.
"Let me do the talking." Laurel shoved open the door. "You're my subordinate, remember?"
"Yeah." Nathan muttered and climbed out. "I definitely want a say next time."
Working together gets to be very interesting as they make pretty good partners when they aren't keeping secrets. The tension and anticipation build as they get closer to solving the case.
The Trouble with Nathan is Robin Hood meets The Thomas Crown Affair. Anna J. Stewart created a great cast of colorful characters that will keep you entertained. Ms. Stewart provides a good balance of banter, heat, and suspense. The Trouble with Nathan can be read as a standalone in the series. Fans of The Fox and O'Hare series by Janet Evanovich and Lee Goldberg will enjoy The Trouble with Nathan.
Book Info:

Publication: Published April 19, 2016 | InterMix | Tremayne Family #3
The stakes are high and love is on the line in the third and final Tremayne Family Romance from the author of Here Comes Trouble.
Nathan Tremayne shares a dangerous secret with his father, Jackson, and sister Sheila. Together they are Nemesis, the infamous cat burglar who targets the wealthy. But when Jackson is framed for stealing the priceless Crown of Serpia, the whole family is at risk.
Nathan isn't about to let his father go down for a crime he didn't commit, but finding the real culprit won't be easy with Laurel Scott, the nosy, pushy, drop-dead gorgeous insurance investigator following his every move.
But Laurel has secrets of her own. Posing as an insurance investigator was part of her own plan to steal the crown. As their attraction heats up, and the truth comes out, will this pair of thieves steal each other's hearts?