Two Times as Hot by Cat Johnson opens with sisters Emma and Becca in Oklahoma as Becca prepares for a job interview. Becca is trying to move on with her life, and big sister Emma is there to help her! A night at the rodeo and possibly some cowboy fun is just what they need! Unfortunately Emma's cowboy left her hot and bothered…and Becca got the job and the man!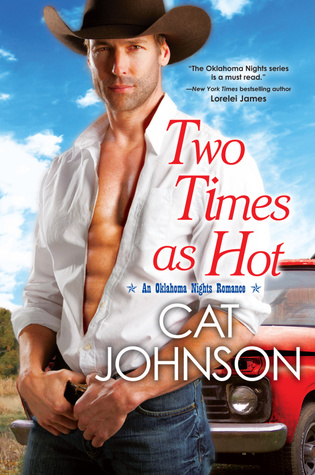 A year later, Emma is back from New York to Oklahoma for Becca's wedding. She knows she will see Jace, the guy she's never heard from again (yes, she holds a bit of a grudge!) and is determined not to fall for his charm again! When Emma does see Jace again, he once again pulls a disappearing act on her…but she has someone else in her sights! Logan is not only like a brother to Becca's new husband, he is military, and he is all man!! The attraction between Emma and Logan is mutual, one that neither of them can resist and at the earliest opportunity, they sneak away from the wedding party for a hot, steamy, not soon to be forgotten night. They both know that Emma is leaving again soon, so there are no expectations, no phone numbers exchanged.
But back in New York, Emma realizes how empty her life really is. Logan is constantly on her mind and deep down she wishes he would call. At the same time Becca arrives home in Oklahoma from her honeymoon, Emma not only finds out why Logan hasn't called, she also receives shocking and life altering news. Needing to be close to her sister and hopefully see Logan, Emma heads back to Oklahoma. Emma and Logan take up where they left off and things are steamy! Even more than that, they spend more and more time together as Emma helps Logan deal with his family crisis. As they come together as a couple, there is still no for sure thing while Emma's home is in New York. Their feelings towards each other are growing, and both want more, but Emma is hesitant and wants to make sure Logan really loves her before she tells him her secret…which she fears will either push him away or make him want to be with her for all the wrong reasons. She hasn't had much luck with relationships so far in her 30 years, will this be any different?
Once I got really into Two Times as Hot I really enjoyed it! I loved that Logan is a mature man. He's not afraid to go after what he wants either! I really got the feeling there is a lot of depth to Logan…even more so than is written about. He is a really strong, loyal, caring, everything you want in a man man!! He puts his family first before himself, he is really easy to love! Emma was a bit harder for me to like. She comes across as really immature at times and a bit shallow…holding a grudge against someone she met once (Jace) for something that happened a year ago seemed a bit over the top to me! Especially when it's talked about frequently in the beginning of Two Times as Hot how hurt she was by this. Emma seems to have some trust issues when it comes to men and a lack of self esteem. As the book progressed I do think she matured a bit, but I really didn't like her secrecy (you'll have to read Two Time as Hot to see if Logan felt the same way!). I did like the bond she had with her sister and how easily she seemed to fit into her sister's in-law's family, so this tells me she probably has some relationship issues with men, but is generally a likable person!
There is definitely chemistry between Logan and Emma though…I feel like if they can work things out they will be a great couple.
I loved the dynamics between the families in Two Times as Hot! It was great to see them not only meddle, but all pull together in a time of need. This really gave some extra strength to the secondary characters in Two Times as Hot.
The only thing I had a hard time with in Two Times as Hot is that it seemed like the wedding night took up half the book…it felt like too long before I could get really into the story line. But when I did I was hooked! There was so much more to it than the first half would have led me to believe and I'm glad I kept reading.
In Two Times as Hot you will get humor, love and lots of heat! If you like this along with some great secondary characters you'll like Two Times as Hot by Cat Johnson.
Book Info:

Published September 24th 2013 by Kensington
One Good Girl…
After her sister snags a hot Oklahoma cowboy, Emma Hart figures it's her turn to saddle up. And with two country boys pursuing her at once, she's in for a wild ride…
Two Sexy Guys…
Lieutenant Colonel Logan Hunt can't deny the heat between him and Emma is fierce. But Logan isn't looking for anything serious…just a chance to blow off some steam. So why is he crazy jealous when he sees pro bull rider Jace Mills trying to charm Emma into bed?
Winner Takes All…
Logan knows he and Emma could have something special—and not just because she's smokin' hot. Now he has to find a way to prove that even a no-strings-attached guy like him can stick around for the long haul…
"Impressively fresh… (Johnson's) dialogue lilts off the tongue, and her earlier characters continue developing alongside Emma and Logan, keeping returning readers engaged. Johnson's fans will be looking forward to the next in the series." Publishers Weekly on Two Times as Hot
Praise for Cat Johnson and One Night with a Cowboy (Oklahoma Nights, Book 1) "One sexy romp with a sweet and hot hero you'll want to keep around for longer than one night!" —Lorelei James, New York Times bestselling author