In Unexpected Maisey Yates Kelsey Noble is tired. Tired of the horrid bridesmaid's gowns she wears because of her more 'traditional' sisters. Tired of her parents being disappointed for being an independent woman. But most of all, she's tired of wanting more. So she takes matters into her own hands and gets herself knocked up. Okay, it's IVF, but the result's the same, right?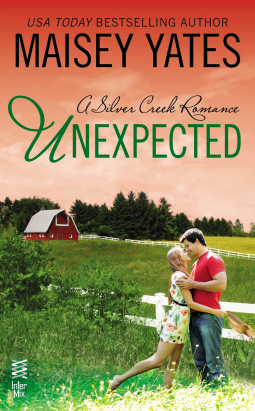 Cole Mitchell definitely doesn't think it's the same. Through an error at the clinic, his sperm got juggled out of the private banks and into the donor ones. It's just one mistake after another in his comedy of errors-type life. But after finding the woman who is carrying his child, he knows he can't just let things lie.
In order to figure out how to handle their ultimately complicated relationship, he invites her to stay at his ranch in Silver Creek. It's not a hardship – the accommodations on offer look pretty luxurious, so Kelsey takes him up on his offer. She drags her tough-talking bestie Alex with her – and her hostility should keep Cole on his toes.
While they should've been working things out, they were both fighting with a growing attraction to each other. Not just heat – although there was DEFINITELY heat – but a true friendship. Cole sees Kelsey for what she is, not for what he wants her to be; and Kelsey lets him vent about issues he feels he has to keep to himself. In being there for each other, they build a foundation without even realizing they picked up the bricks and mortar.
I don't want to give away too much, but I'll throw out a few facts. There are a couple of side-stories involving Alexa, and Cole's siblings. (Cade and Lark). Some angst in the form of the Hero & Heroine's family backgrounds. And also some hotness. Well, a lot of hotness.
"She wanted his hands on her. Everywhere. She wanted him, naked and pressed against her and naked."
I'm not surprised I liked Unexpected. I am, however, surprised that it knocked me on my ass. What is it about cowboys anyway? They really do get my heart racing. I *so* want Cole to rap on my door and invade my space. Hubby might not like it, but… y'know. *wink*
A great start to what I'm sure will be a wonderfully brilliant new series.
Book Info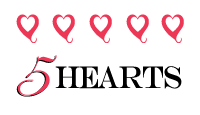 Publisher: InterMix  Publication Date: August 20, 2013
After spending another family wedding fielding questions about her non-existent love life, Kelsey Noble decides she's tired of waiting around for things she could go out and get herself. What Kelsey wants is a baby, and she doesn't see any point waiting for a husband she's not even sure she wants. But a mix-up at the fertility clinic lands her with a hassle she didn't count on. A big, muscular hassle in a Stetson and cowboy boots.
Cole Mitchell is shocked to discover that a grand gesture from years past has come back to haunt him. Now, thanks to a clerical error, a woman he's never met is having his baby—and there's no way he's going to walk away and forget he has a child.
Trying to make nice with the unexpected father of her baby lands Kelsey in Silver Creek, Oregon, dealing with the kind of small town life she left behind years ago. Even worse is dealing with the burning attraction she feels for Cole. She knows adding sex to the mix is a very bad idea, but she's not sure how long she can resist falling for the last man she ever expected…