In Time Changes Everything by Melinda Dozier, Things are going exactly as planned for Amanda Larson. She lives in New York City, working as a fashion buyer for Macy's, and now she is managing/coordinating the Denalo fashion show for Valentine's week, which is a dream come true. Her life will be filled with work, work and more work – but she loves it and is thrilled to finally be able to prove herself to her meddling mother. Amanda certainly isn't looking for a distraction. But that's exactly what she gets when she runs into Jake Edwards, her childhood next door neighbor and teenage crush, in a bar after work one evening. Jake is still as sexy and powerful as ever, looking every bit the lawyer his is, and he's obviously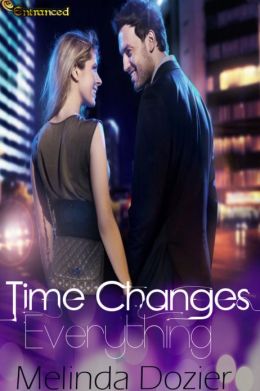 thrilled to see her judging by the twinkle in his incredible blue eyes and the mega-smile he sends her way. Amanda's not sure what is happening, but she feels a spark between them that's stronger than it ever was when they were teenagers. Not only that, but Jake is giving her signals that he's interested in her. He's always been a ladies man, even in school, but he broke her heart when he kissed her at a high school dance and then took off with no explanation. She's not interested in dating at the moment, given her hectic schedule, and she doesn't do casual flings unlike Jake.
"Perfect. Now, they could be friends, just like old times. No strings attached and no need to worry about any hidden feelings behind those stares. Her imagination apparently ran wild. All those touches and stares now couldn't mean what she hoped it meant–damn it to hell."
Amanda and Jake share a heated kiss as the night ends but they take it no further. They meet in the morning for a jog through the park and end up having a deep conversation before they part ways for a short while. They both seem to want different things, but Jake steps up and takes Amanda out on a proper date to his company holiday party. She gets a glimpse into the life he leads at work and of his social interactions, the latter of which frightens her. Jake had been honest about his prior views on casual dates and Amanda is afraid that he will soon grow tired of her and move on to the next good time. She doesn't want to lose her friendship with him but she's also not sure if she's willing to trust that he will be ready to take their relationship to the next level. Jake hurt her before, albeit when they were young and foolish, but she doesn't know if he's at a point in his life where he can change yet. As work takes up her time more and more and Jake continues to seduce her, Amanda feels torn in two. Can she balance a relationship with her demanding career, and take a leap of faith with Jake?
"The minute he saw her in Manahatta's, he'd been sucker punched in the stomach. She wasn't the little girl he remembered, and this wanting inside of him wasn't very neighborly. Hell, if he didn't think too hard about keeping his hands to himself, he'd have her in her bed in two minutes flat."
Jake Edwards has only been in New York for about a month working as a sports contract lawyer when he runs into Amanda "Mandy" Larson one night. He can't take his eyes off of her when his buddy Ryan spots her, and he immediately makes his way over to catch up with Mandy. She has grown into a stunning woman, confident and successful, yet he still feels protective of her, thinking of her as "his Mandy" from the years they grew up together. They both realize they have incredible chemistry as soon as Jake sits down, so he gives in to temptation and begins to flirt before thinking of the repercussions. He never dates any woman for long, not wanting to get tied down or have his heart stomped on, but he feels differently about Mandy. He's not sure if it's the history they have together or if something has changed between them. But he knows he wants to explore it further. He finds it easy to change his ways from a ladies man to thinking of having forever with her. However, Mandy doesn't seem to be so sure. Jake tries to give her the time she needs to work and concentrate on her fashion project, but she shuts him out when he talks about moving forward. He's not sure if she's scared of getting hurt or if she doesn't feel the same way about him, but he's determined to win her over during the holidays. He can't see himself without Mandy in his life.
A great debut! Melinda Dozier did a fabulous job with this story. It was incredibly well written, and even though it was a quick read, it still had a lot of emotional depth. Amanda and Jake had such a rich history together that it brings the story to life…which is why I enjoy stories like this that are based on a reunion trope. Melinda included just enough of their childhood without it being overbearing so it gave the reader a sense of how they got this point in their relationship. I have to say their chemistry is scorching hot and it was interesting to see Jake ready to settle down but to have Amanda pull back. I definitely recommend this sweet and funny romance.
Book Info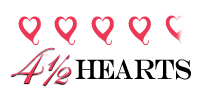 Publisher: Entranced Publishing, LLC (May 11, 2013)
Amanda Larson is dedicated to her job and doesn't want to make time for anything else. Until she runs into Jake Edwards. He used to be the cute boy next door; now he's a sexy, big shot lawyer.
Jake Edwards isn't interested in commitment. He's successful, sexy, and single–and that's how he likes it. When he reconnects with Amanda, Jake realizes he might have to rethink his philosophy on the carefree, bachelor lifestyle.
But, is it too late for them? Or can he convince her that he's ready to give her his heart?