Walk Through Fire by Kristen Ashley: Twenty years ago, Millie left behind the boy she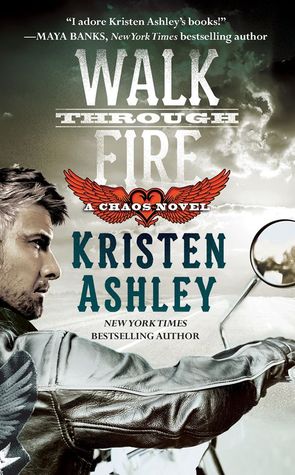 loved, doing it so he could find what he wanted. Logan, not knowing why Millie actually left, harbored a ton of anger towards her all those years. After a near run-in at Chipotle, Millie decides she needs to finally apologize to Logan and tell him the truth.
At first I didn't like Logan. Millie tried to apologize, and he treated her poorly and humiliated her. Even though he won't let her explain, he has no problems showing up over and over again to have sex with her. I wasn't too happy with the guys in the club, either, because they also treated Millie poorly since she had hurt Logan all those years ago. Yet after Millie is finally able to admit the truth to all of them, they all turn around and become and supportive of both Millie and any relationship she has with Logan. Logan, for his part, becomes more sympathetic towards Millie and tries to win her back. He realizes that she left him in order for him to have the life that he dreamed of. Along the way he recognizes all she sacrificed for him to be happy, and he wants nothing more than to see her happy again, too.
Millie was a strong woman. She didn't have to apologize or explain things to Logan, but she did. She didn't have to forgive the guys in the MC for how they treated her, but she did. When Benito Valenzuela, an enemy of the club, confronts her, she has no problems standing up to him. As strong as she was, she also harbored a deep sadness that there was one thing she could never give Logan–the one thing that caused her to leave him all those years ago.
In this book we also get to catch up with the Old Ladies of the MC, who immediately embrace Millie into their fold, as some of them remembered her from when she was previously with Logan. They even go behind their men's backs in order to help Logan and Millie get back together, and to keep their men from going after Valenzuela.
My only complaint would be the scenes with Valenzuela. For a guy who's supposed to be bad, he doesn't come across as terrible in this book. Twice he has a run in with Millie, twice he lets her go unscathed with only warnings to the deliver to the MC. I guess I was expecting him to do something a little more drastic.
Walk Through Fire is an outstanding addition to the Chaos series. Kristen Ashley has created a well-written book filled with anger, sadness, heartbreak, forgiveness, understanding, and love. If you enjoy books about motorcycle clubs, you should definitely consider giving this one a try. While it can be read as a stand alone, you should also consider reading the other books in the series to gain a better understanding of the other characters in the MC and their relationships; they're all good books.
Book Info:

Publication: October 27, 2015 | Forever | Chaos #4
Millie Cross knows what it's like to burn for someone. She was young and wild and he was fierce and even wilder-a Chaos biker who made her heart pound. They fell in love at first sight and life was good, until she learned she couldn't be the woman he needed and made it so he had no choice but to walk away. Twenty years later, Millie's chance run-in with her old flame sparks a desire she just can't ignore. And this time, she won't let him ride off . . .
Bad boy Logan "High" Judd has seen his share of troubles with the law. Yet it was a beautiful woman who broke him. After ending a loveless marriage, High is shocked when his true love walks back into his life. Millie is still gorgeous, but she's just a ghost of her former self. High's intrigued at the change, but her betrayal cut him deep-and he doesn't want to get burned again. As High sinks into meting out vengeance for Millie's betrayal, he'll break all over again when he realizes just how Millie walked through fire for her man . . .