Wicked, My Love by Susanna Ives: If you long for a lighthearted and charming romance, then "Wicked, My Love" is one that you should seek out.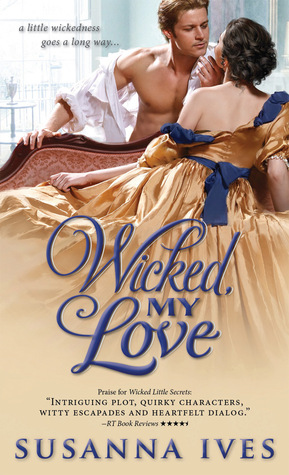 Lord Randall Hazelwood and Isabella St. Vincent have been thrown together since childhood, and more or less despise each other, although they are partners in the bank that their fathers created. Lord Randall is a golden boy, handsome beyond words with a golden tongue and dreams of political greatness. A decent man, he cares for the poor and downtrodden but also wants to be liked and admired.
Isabella is maddeningly brilliant with numbers, and utterly hopeless with people. Now twenty-nine, and a spinster, Isabella has romantic aspirations for their third partner, an Anthony Powers, despite her man-hating Aunt Judith, whom Isabella lives with. However, Powers is a huge disappointment, since he has invested the bank in bogus, fraudulent stock, and then runs away. Randall and Isabella have to get over their differences, try to catch him, and mitigate the potential scandal should the news get out.
Travelling at breakneck speed through the English countryside towards London reveals many things about the protagonists, not in the least that Randall has at least three nicknames for a certain part of his anatomy. Isabella, despite her crazy hair, thick glasses and unflattering dresses, has a hidden beauty that Randall finds he lusts after. For her part, Isabella, who has been raised to be extremely wary of men, longs for Randall and an intimate connection. Their youthful antipathy turns into mutual admiration, and their first kiss, despite being a diversion, is also a revelation:
She closed her lids, her lips began to tentatively, nervously move against his, as if the poor dear thought he was actually trying to kiss her and not hush her. Bang! Someone slammed into a chair or such below them, knocking it over. Her eyes shot open. He held her captive in his kiss a second longer, because, bloody hell, she was exhilarating.
Wicked, My Love by Susanna Ives is difficult to summarize without giving away too much. There is a dastardly railroad baron, an uppity mother, hundreds of pro-woman suffragettes in the making, and the expectations of an entire nation seemingly pursuing Isabella and Randall on their path to keep their bank from failure. Unlike many historical romances, Isabella, the woman, is the reclusive, eccentric genius while Randall is the beautiful and socially accomplished gadfly. However, even though they seem to be complete opposites, Randall and Isabella have a huge thing in common: insecurities stemming from their childhood, and childhood expectations. In a way, Isabella and Randall reminded me of Temperance and Seeley from the TV show "Bones," where the woman is a socially awkward genius and the man is a socially-adept intuitive people person.
It's hard to quantify what I liked about this book, but I really liked it, and had a difficult time putting it down to do other things. The humor is broad and a trifle slapstick, and the language occasionally delves into the realm of the raunchy. However, between the clever dialogue and the mental asides, the emotional moments are real and touching, and watching two people discover themselves as well as each other is as fascinating in a book as it is in real life.
Book Info:

Publication: March 3rd 2015 by Sourcebooks Casablanca
A smooth-talking rogue and a dowdy financial genius…
Handsome, silver-tongued politician Lord Randall doesn't get along with his bank partner, the financially brilliant but hopelessly frumpish Isabella St. Vincent. Ever since she was his childhood nemesis, he's tried—and failed—to get the better of her.
Make a perfectly wicked combination…
When both Randall's political career and their mutual bank interests are threatened by scandal, he has to admit he needs Isabella's help. They set off on a madcap scheme to set matters right. With her wits and his charm, what could possibly go wrong? Only a volatile mutual attraction that's catching them completely off guard…