In Yours for Christmas (Fool's Gold #15.5) by Susan Mallery, Bailey Voss and her seven year old daughter Chloe have a lot to be thankful for this Holiday season. After the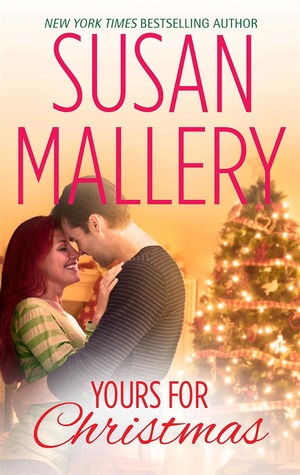 devastating loss of her husband overseas in the army a couple of years ago, Bailey moved to Fool's Gold and started over. Finding a new job she likes, seeing her daughter do well in school, and finally buying a home of their own are dreams now turned into reality. But at the back of Bailey's mind is the longing for a man to cherish and protect her. And oh how she would love ex-NFL receiver Kenny Scott to be that man. She's pretty sure he's noticed the chemistry between them as well. So when they have to work on a project together, Bailey tries to keep things platonic, knowing she's not his usual type of woman. Will she be able to keep control of her heart when Kenny turns out to be even more wonderful than she thought?
'She'd given up on the just-friends thing. She had a crush on him and all the sensible talk in the world wasn't going to change that.'
Kenny Scott hasn't been able to stop thinking of a particular curvy redhead since moving to Fool's Gold. Bailey Voss turns him into a lusty teenager whenever he's in her presence. And her cute-as-a-button daughter Chloe just brightens up his day with her energy and beautiful smile. Kenny would love nothing better than to get serious with Bailey and have the family he's been dreaming of. But after losing his chance at family life a few years ago, it's made him a bit gun-shy. He keeps telling himself he's better off not even getting close to Bailey or Chloe so no one gets hurt. But when everything and everybody keeps drawing them together, how can Kenny refuse?
'Was he willing to try again, to love, knowing he could lose it all? Chloe would never be his. If the worst happened, he would lose her, too.'
Finally! I've been looking forward to Kenny and Bailey's story for a while now, and I am happy to say they were just as endearing and perfect for each other as I had been hoping they would be. Don't you just love it when a romance meets your expectations?
Yours for Christmas has to be one of the sweetest Christmas romance novellas out there. If you've read the previous couple of Fool's Gold novels about the former football players, and Taryn, who own Score, you already know they are a bunch of kindhearted people underneath the macho attitude. But I really think Kenny is the sweetest of the guys, hands down. I loved how seven year old Chloe had him completely wrapped around her little finger. Seeing such a big, tough football guy being so patient and caring with her was so darn charming it just about made my ovaries weep! 😉 No, seriously though, Kenny was a truly nice guy who longed to have a family of his own. I could completely empathize with him for being leery of starting a serious relationship with Bailey so he wouldn't hurt her or Chloe if things didn't work out. I thought that was very thoughtful of him, actually.
And then there was Bailey. She was such a lovely, hardworking woman who was utterly devoted to her beautiful daughter. And it showed in how well behaved and caring Chloe was. I thought it was easy to see where Bailey was coming from when she began to worry if Kenny would like her, doubting her looks and the fact that she was just a single mom, not a model or actress. Of course we readers know she was wrong…she was more than good enough for Kenny, which he ultimately proved to her. There was a lot of wonderful chemistry and tension between the two of them, even though the story stayed pretty PG-13. But there was no doubt that Bailey and Kenny were drawn to each other, no matter how much they tried to deny it.
I hope Fool's Gold fans will enjoy this stunningly romantic novella with a warm Holiday vibe to it. I think Kenny, Bailey, and Chloe will easily charm their way into your heart.
Book Info:

Published October 28th 2014 by Harlequin HQN | (Fool's Gold #15.5)
Step out of the winter chill and into the warmth of Fool's Gold, California, the charming small-town setting for a new holiday novella from New York Times bestselling author Susan Mallery
Famous former NFL stars don't date single working moms like Bailey Voss. She'll allow herself to daydream about Kenny Scott's muscles and killer smile, but wanting more would lead to post-holiday regret. Then Kenny volunteers to run a toy drive with Bailey, and she learns that he's not just hot…he's also generous, funny, nice. The whole package—tantalizingly out of reach.
The ache of past loss reminds Kenny why he needs to avoid getting too close to anyone. Especially to a gorgeous redhead and her adorable little girl. Mess it up, and he'd lose them both. Yet Kenny can only resist Bailey for so long. And as festive spirit spreads throughout the town, he's all wrapped up in Bailey's sweet, sexy kisses and determined to make this the first of many Christmases together…