Friday Favorites: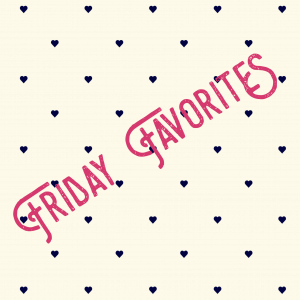 Read & Re-Read Edition
I have a tendency to get a little obsessive about books. It's just that sometimes I read something so good I simply cannot help myself from reading it again and again. And again. Okay, and maybe just one more time.

Some books or series just feel like coming home. No matter what is going on in life – the good, the bad, and everything in-between – there are a few books that I always circle back to because I know that I can count on them. Sometimes, your heart and soul need a book where you know exactly what is going to happen. No surprises. No plot twists.

What I love most about a re-read though is discovering how my interpretation of a book changes based on where I'm at in life. It's pretty amazing how an old favourite can read like it's brand new when you're at a different place in your life. Man, books are so insanely cool and powerful. It blows my mind sometimes.

Katharine's Top Five Read & Re-Reads

Act Your Age by Eve Dangerfield. I don't know what it is about this book, but I just love it. The angst is so realistic. I love the characters; they are unique but not so different that you can't related to them. The ending is so satisfying. Really, it's everything I'm looking for in a good romance.
Melting Point by Kate Meader. I. am. obsessed. This is hands down one of the sweetest and sexiest books I've ever read. Every time I open it I think that maybe this will be the time I get sick of it and put it down. It never happens. Even after close to 25 re-reads of this one I still binge read it in a single sitting each time. It's pure gold.
How to Date A Douchebag: The Failing Hours by Sara Ney. In my humble (an mostly irrelevant opinion) this is new adult romance at it's absolute finest. Zeke and Violet are surprising sweet. The plot has just enough angst to make it a romance read, without all the doom and gloom. There is something really lovely about first love.
Breaking Free by Cherise Sinclair. I am so in love with Nolan and Beth it's hard to put into words. They take me on a beautiful journey each time I step into their world. There are times where I feel like I shouldn't be reading their story because it strikes me as so intimate and loving. Nolan's steadiness and Beth's strength are stunning to see.
Thrown Down by Tessa Bailey. This is first class second chance romance. Vaughn and River hold a ver special spot in my heart as the couple who brought me back to loving romance novels. After a loooong break from reading them I picked up this book and fell in love. When I need a reminder of all the good that exists in the world I go join them and their little girl to read about the bad boy from the other side of the tracks who wins back the love of his life. Sigh. It just doesn't get better than this.


Comment Below! What are your most re-read titles? How do you feel about re-reading books?
Katharine