In A Match Made in Bed (Spinster Heiresses #2) by Cathy Maxwell, According to members of the Ton,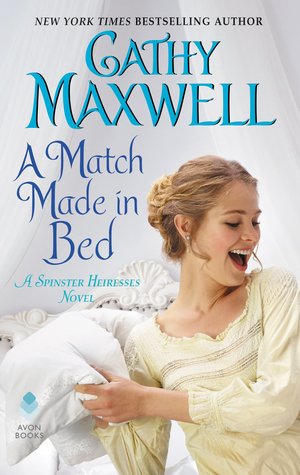 the only thing Miss Cassandra Howell has going for her is her dowry. She's approaching spinsterhood unless she can finally get her father to allow her to marry. Although she doesn't make it easy for the eligible men she meets, since she is opinionated and would rather discuss literature than make small talk. When Cass's father lets her set her sights on the Duke of Camberly, she hopes this will be her chance to wed and have a family. But the duke's attentions prove to be elsewhere. It's her former childhood friend, Soren York, Earl of Dewsberry, who makes a play for her. Too bad Cass knows it's just to use her money to get his family out of debt. Even if she were to agree, she knows the feud between his family and hers would mean her father would never allow it. But what if she went against her father's wishes for once in her life? Could she grow to love Soren as much as she hopes she could?
"In honesty, Cass, of all the heiresses in the world, I like you best."
She rather liked him as well, when she wasn't exasperated with him.
After years of being out of the country and out of his family's scrutinizing eyes, Soren is back in England and dealing with the fallout since his father's death. His new title as the Earl of Dewsberry comes with some hefty debts to somehow overcome. He knows marrying a woman with a substantial dowry is his best bet. And although Soren hates the thought of doing so, it might not be so bad if he marries his lovely childhood friend Cassandra. He's always had a bit of a crush on her and adores the way she forever has her nose stuck in a book. They may seem very different on the outside, but Soren knows they care about the same things and would make a good match. Convincing her of that fact? Well, that's going to take some patience and a grand proposal of marriage to knock her off her feet. Too bad that one thing after another goes wrong for them, pushing Cass and Soren together under tough circumstances. Good thing Soren is used to making the best out of what life has to hand him.
His gaze holding hers, he said, "Trust our kisses. They never lie."
Her smile was as if the heavens had opened and blessed them–and he knew she would make everything wrong in his life, right again.
A marriage of convenience turned into romance filled with passion and fire in A Match Made in Bed. Cathy Maxwell's second book in her Spinster Heiresses series took me by surprise a few times with the revelations our hero and heroine both uncovered, and boy did it keep things interesting.
"What are you doing?" she said. Their faces were mere inches from each other.
"Seducing you," he answered. His voice was mesmerizing. "We are going to be very good together, Cass."
"You don't know that," she whispered.
"I'm willing to find out. Aren't you?"
I was quite interested to see how things would play out between Cassandra and Soren after getting a few glimpses of them in book one. Their romance turned out to be a combination of many things: opposites attract, former friends turned lovers, and they had a lot family drama going on in both their lives. That was actually what gave them a big shove to get together, was Soren's need of funds to rectify his family's debts and Cass's father disapproving of almost every man who approached her. I did have some reservations about the two of them together at first where Cass–while she was highly intelligent–was rather naive and had been coddled. She was a touch spoiled but she meant well and wasn't bratty so it didn't bother me overly much. But it was obvious that if she accepted Soren's proposal of marriage, it would be a difficult transition for her to no longer have the life she was accustomed to.
Soren's life. Wow…I can't get into all the details but he was forced to live across the pond due to his family's financial situation. And sadly his personal life was in shambles after he thought he was off to a good start. So coming home to England and being forced to do something drastic to keep the family home, after becoming the Earl of Dewsberry, put a lot of weight on his shoulders. I really liked Soren, though. He was a fun character even in light of his tough situation. And it was so nice that he was the one who was the most sure about his and Cass's relationship. He was kind-hearted but wasn't afraid to fight for what he believed in. And Soren was steadfast, keeping his promises and looking out for those he held dear. His and Cass's HEA at the end did feel a bit rushed to me and still left a few tiny things unresolved–or maybe unexplored is more accurate. However, I was still happy with how things ended overall and am hopeful that we might get more details about this lovely couple in book three, which is Willa and the Duke of Camberly's romance.
A Match Made in Bed had me quickly flipping the pages of this Regency novel, thanks to the delightfully entertaining courtship we witnessed and the even more heartwarming, poignant scenes as this couple fell completely in love.
Book Info:

Publication: April 17th 2018 | Avon | Spinster Heiresses #2
Once upon a time there were three young ladies who, despite their fortunes, had been on the marriage mart a bit too long. They were known as "the Spinster Heiresses" . . .
Miss Cassandra Howell is too tall, too bookish, and too smart—but she does have money and a father who wants a grand title for her. Cassandra hasn't felt a desire to marry until she meets the sinfully handsome Duke of Camberly, who captures her imagination . . . until Soren York, Earl of Dewsberry and her family's sworn enemy, steps in the way.
The Holwells ruined Soren's family, and he's lived on the knife's edge trying to resurrect their fortunes . . . until he considers marrying the Holwell Heiress. Not only would her dowry give him the funds he needs, he has secretly had an eye on the independent-minded bluestocking since they both first realized the differences between men and women.
She likes to read; he has no patience for books. She knows little of sex; he is a man of the world and willing to school her. Her family destroyed his; his offer of marriage may be her only salvation.
Now Cassandra and Soren must learn to love each other for who they are, not what they are—and the lessons are becoming an exercise in absolute pleasure.