Welcome to Harlequin Junkie's
4th
Annual

Reader Appreciation
#BOOKMAS
EXTRAVAGANZA!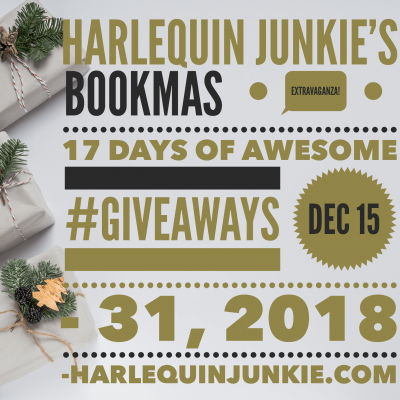 HJ's Bookmas Extravaganza is our annual celebration of YOU, our loyal and engaged readers of Harlequin Junkie blog and the romance community.

We would like to say Thank You for all you do; for all the tweets, shares, comments and for the fabulous job you do of spreading the word on all things bookish!! We <3 You!

On the 11th Day of #Bookmas…
Carina Press gave to me:

 $25 Amazon Giftcard
A spotlight on a few upcoming 2019 Carina Press titles:

NO STONE UNTURNED by Julie Moffett (eBook only January 14, 2019. Mystery/Adventure)
An engagement is supposed to be a fun, exciting time in a girl's life. But things are never that easy for Slash and me. Instead, someone is threatening to expose Slash's past—a past so secret, even I know very little about it.
Before I can get used to the weight of Nonna's antique ring on my finger, he's on his way to Rome…and we're farther apart than we've ever been. Still, I have no intention of sitting at home and letting him take on the Vatican by himself.
With a little expert-level hacking, I learn Slash is keeping secrets from me. Big ones. Dangerous ones. In fact, the more I dig into Slash's past, the more I discover things about him I never knew—things that eventually pit us against each other.
From Rome to the Amalfi Coast to the highest levels of the Vatican, we both race to discover the truth. No matter what I find, we're officially a team now, so I won't let him face this alone. Even if I don't know if our relationship can survive it.
And don't miss the rest of Julie Moffett's Lexi Carmichael Mysteries: No One Lives Twice, No One To Trust, No Money Down, No Place Like Rome, No Biz Like Showbiz, No Test for the Wicked, No Woman Left Behind, No Room for Error, No Strings Attached, No Living Soul and No Regrets, available now from Carina Press!
FLARE UP by Shannon Stacey (eBook / mmp January 29, 2019, Contemporary Romance):
Nursing a broken heart while everybody around him seems to be drowning in happiness has Grant Cutter wondering whether staying with Engine 59—or even Boston Fire—is in his future. It's tempting as hell to pack up what fits in his Jeep and hit the road. But then a 911 call brings the woman who shattered his heart back into his life, and he knows he won't ever be able to fully leave her in his rearview mirror.
For a few months, Wren Everett had thought the nightmare of her past was behind her and she might live happily ever after with Grant. Until she got the phone call letting her know the time her ex had spent in jail for assault hadn't cooled his temper or determination that she belonged with him. Cutting ties with Grant was the hardest thing she'd ever had to do, but it was also the only way to keep him safe.
Now that Grant is back, he's not letting Wren push him away again. And even with the trust issues between them, Wren dares to hope she and Grant might have a future together after all…if they're willing to fight for it.
APPETITES & VICES by Felicia Grossman (eBook February 18, 2019, Historical Romance):
Banking heiress Ursula Nunes has lived her life on the fringes of Philadelphia's upper class. Her Jewish heritage means she's never quite been welcomed by society's elite…and her quick temper has never helped, either.
A faux engagement to the scion of the mid-Atlantic's most storied family might work to repair her rumpled reputation and gain her entrée to the life she thinks she wants…if she can ignore the way her "betrothed" makes her feel warm all over and stay focused on her goal.
She's his ticket out…
Former libertine John Thaddeus "Jay" Truitt is hardly the man to teach innocent women about propriety. Luckily, high society has little to do with being proper and everything to do with identifying your foe's temptation—an art form Jay mastered long ago. A broken engagement will give him the perfect excuse to run off to Europe and a life of indulgence.
But when the game turns too personal, all bets are off…
DOWN & DIRTY by Rhenna Morgan (eBook March 11, 2019, Contemporary Romance):
Especially when it comes to their women.
A powerful man
Axel McKee abandoned his musical career years ago in favor of becoming a power player on the music scene. His dreams of the spotlight are over—and he's better off for it. Working with his Haven brothers and building their empire is enough for him.
One who commanded attention with nothing more than a look
And then came Lizzy. A dynamic, beautiful powerhouse of a performer unlike any he's seen or heard before. Her presence leaps off stage and into the heart of anyone who watches her sing. Axel wants her. Wants to help her and collaborate with her… But more than anything, he wants to be with her.
And every ounce of his attention was locked on her
Two things are immediately obvious: Lizzy's been burned before, and earning her trust will be Axel's biggest challenge yet. If he can get this fierce, stubborn, talented woman to see the passion and care that he's offering, he might get a chance at a new dream—sharing the spotlight with the woman he loves.
THE AUSTEN PLAYBOOK by Lucy Parker ( eBook April 22, 2019, Contemporary Romance):
In which experienced West End actress Freddy Carlton, who's been on the stage since childhood, takes on an Austen-inspired play, scandal at a country estate, an enthusiastic search for a passion outside of acting… and the (some people might say icy*) heart of London's most feared theatre critic. *if those people were being nice
Carina Press is Harlequin's digital-first adult fiction imprint, publishing first in digital, with releases in audio and print as well. We offer royalty rates competitive with other digital publishers, offer authors consultation on cover art, back cover copy, and titles, and provide incomparable editorial support.
Our mission is to connect readers with authors who write the stories they want to read, and the stories they want to talk about and recommend. Carina Press publishes books from talented authors in all subgenres of romance, including contemporary, paranormal, science fiction, fantasy, and more. We welcome romances of all heat levels, featuring couples (or multiples) from all walks of life. We also publish mysteries of all flavors—from cozies to thrillers—both with and without romantic elements. We strive to create romance and mystery lists comprised of stories written by, for and about people from diverse backgrounds and of all genders and sexual identities. We want many voices to be reflected in the books we publish, and hope all authors will consider making Carina Press their publisher of choice.

GIVEAWAY:

1 $25 Amazon Giftcard
To enter Giveaway: Please complete the Rafflecopter form and

Leave a comment with your thoughts on the books spotlighted here, tell us which one(s) grabbed your attention & why?
From Naughty to Nice and Everything in between….
Be sure to stop by everyday from Dec 15 to Dec 31 2018 for a chance to win: Box-O-books, Gift Cards, Kindle, Audio books, Signed book bundles, Author Swag & more!