Sleepover by Serena Bell: Sawyer is a sexy single dad who is still trying to put the pieces back together after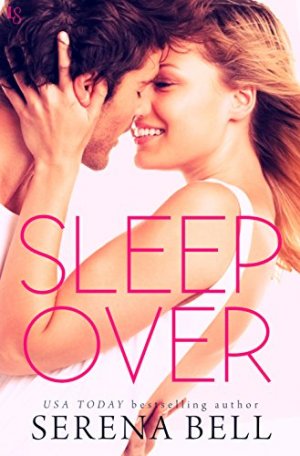 losing his wife two years ago. He's a great dad and a really good guy if you get the chance to know him. Sawyer doesn't talk much and he's certainly not looking for anything beyond a one-time hookup. He's great with his hands and loves to create furniture.
Elle is still struggling after her divorce. With how her marriage played out, she doesn't feel confident, beautiful, or desirable. An amazing hookup did wonders for her confidence, but she's not ready to wade back into the dating pool yet. Instead, she focuses on her writing and being the amazing mom she is to her son.
Sawyer is relieved when his son immediately befriends the boy next door, but he is dismayed to learn that Elle is his new neighbor and the mom. Elle is the hookup he can't forget and might actually want to go back for a repeat. Elle has no filter, and Sawyer finds her babbling and stream of consciousness to be honest, refreshing, and adorable.
"Dad! Dad!" Jonah says. "Can I have a sleepover at Madden's house?"
Tall, Dark, and Broody's eyes haven't left my face.
"Well," he says. "We meet again."
It's awkward to be neighbors and to be unable to avoid each other when their sons are BFFs and almost attached at the hip. Neither are necessarily in a place where they want a relationship and they can't avoid the chemistry and connection they still have. The boys force them to spend more time together and they form an unexpected friendship, which becomes more. They find each other easy to talk to and a safe space to vent about anything.
"I wanted to help. I like you and Trevor's a dick, and Helen's a twat-sorry-"
"At least your degrading language is spread around, gender-wise," I say, unable to hide a smile.
He sighs. "I don't know why I did it, I just did it. And I'm sorry if I made things more complicated for you."
Sleepover is funny, sexy, and heartfelt. Serena Bell created entertaining and relatable characters including their kids, friends, family, and elderly but sassy neighbor. Ms. Bell provided banter, lust, conflict, tension, and an emotional punch. Fans of Kristen Callihan and Corinne Michaels will enjoy Sleepover.
Book Info:

Publication: Published November 13th 2018 | Loveswept |
A brand-new contemporary romance from the USA Today bestselling author of Head Over Heels.
The girl next door is the one that got away. He just doesn't know it yet. . . .
Sawyer: After my wife died, I promised myself I'd never go through the pain of losing someone again. Now I keep my flings neat, tidy, and one-time-only. Besides, my son needs me more than ever. He's miserable in our new town, so I'm pumped when he makes friends with the kid next door—until I recognize his mom from a one-night stand. Perky and upbeat, Elle Dunning is not my type for anything other than tearing up the sheets. So why do I keep letting myself get roped into game nights and get-togethers?
Elle: It so hasn't been my year. That's my first thought when I see my new next-door neighbor. I never would have hooked up with Sawyer Paulson if my husband hadn't left me for his high-school sweetheart, but because our eight-year-old boys have become best friends, I've got to make nice with Mr. Tall, Dark, and Silent. Yet the more time we spend together, the more Sawyer opens up. We've both been hurt—badly. So it's one thing to send the kids off to sleepaway camp together. It's quite another to promise each other a lifetime of sleepovers. . . .
Sleepover is a standalone novel with no cheating, no cliffhangers, and a satisfying happily ever after. This ebook includes an excerpt from another Loveswept title.