Brazen and the Beast by Sarah MacLean is the second book in the Bareknuckle Bastards Series. And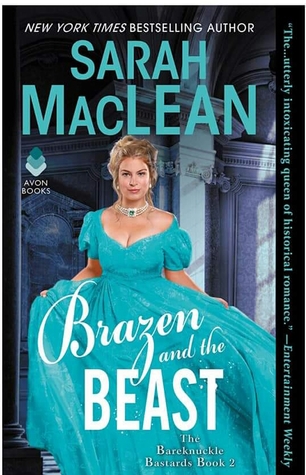 WOW, what a great book! I totally fell in love with the characters, but how could you not with a sassy, talkative spinster and a sexy, silent Bareknuckle Bastard?
There was so much witty banter between the two main characters (even when the reply was a grunt), it was hard not to smile along. The book was funny but there were also some sad moments that the reader could feel the characters sorrow. The author did a wonderful job drawing the reader into the character's lives and letting the reader feel their emotions.
Lady Henrietta "Hattie" Sedley has a plan and it is time for the "Year of Hattie." She is strong minded and determined to show her father that she can manage the family business. The first part of the plan is to become unmarriageable by getting rid of her virtue. Unfortunately, that plan is interrupted by a beautiful man tied up in her carriage. Whit "Beast" is one of Bareknuckle Bastards, the kings of Covent Garden. Whit is determined to find out who is injuring his men and stealing his deliveries. When Hattie releases him (or tosses him from her carriage) he follows her to get some answers. Deals are made but family members, business, and power struggles can disrupt deals made.
I highly recommend this book and already on my way to go read the first book in the series, Wicked and the Wallflower. It is going to be tough waiting for the next book.
Book Info:

Publication: July 30th 2019 | Avon | Bareknuckle Bastards
The Lady's Plan
When Lady Henrietta Sedley declares her twenty-ninth year her own, she has plans to inherit her father's business, to make her own fortune, and to live her own life. But first, she intends to experience a taste of the pleasure she'll forgo as a confirmed spinster. Everything is going perfectly…until she discovers the most beautiful man she's ever seen tied up in her carriage and threatening to ruin the Year of Hattie before it's even begun.
The Bastard's Proposal
When he wakes in a carriage at Hattie's feet, Whit, a king of Covent Garden known to all the world as Beast, can't help but wonder about the strange woman who frees him—especially when he discovers she's headed for a night of pleasure . . . on his turf. He is more than happy to offer Hattie all she desires…for a price.
An Unexpected Passion
Soon, Hattie and Whit find themselves rivals in business and pleasure. She won't give up her plans; he won't give up his power . . . and neither of them sees that if they're not careful, they'll have no choice but to give up everything . . . including their hearts.