In The Librarian's Vampire Assistant, Book 4 by Mimi Jean Pamfiloff, Vampire Michael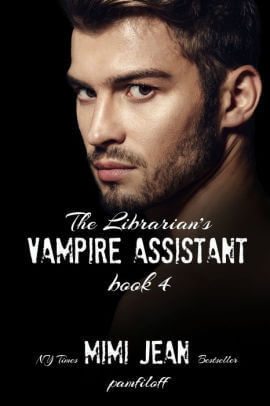 Vanderhorst has seen a lot in his many, many years on earth. But he never thought he'd see the day when someone would steal away Miriam, the woman–and librarian–of his dreams. And for it to be Mr. Nice? The vampire who dresses in frilly lace and speaks with so many different accents that no one can understand him? Unacceptable. Michael does the only thing he can think of: he searches the world over in the hopes of finding his Miriam and rescuing her from the dastardly Mr. Nice.
'Miriam loves me. I know she does. But what would make her turn away and fall for a murderous Count Chocula in drag?'
What Michael finds is more questions than answers and too many bewildering facts to keep straight. Could Miriam have had a reason to stay with Mr. Nice or even actually somehow fell for him? It doesn't seem possible. Michael's search leads him in directions he never would have imagined, with changes in his life that will have a lasting effect. All he wanted was his soul mate back so they could once again run the library together–Miriam as his boss, he being her devoted assistant. But nothing about Michael's investigation goes according to his plans.
'Never once in all of my years, have I seen a person so reluctant to be rescued.'
Book 4 in The Librarian's Vampire Assistant series was a turbulent but completely exhilarating ride. You won't believe the plot twists, the uncovered secrets, or the lengths our hero Michael went through for his beloved librarian.
'I am Michael Vanderhorst. And I am going to get my librarian back.'
Oh, Mimi Jean Pamfiloff. *shakes fist at the sky* The things you do to your readers all in the name of entertainment. Sigh… But seriously, I'm used to plots that go in unexpected directions and characters who are unique and lovably quirky in MJP's work. But LVA4? This was crazy exciting and definitely a game changer for Michael and, well, everyone involved. SO much happened. And everything–I do mean everything–was turned upside down by the end.
Along the way, of course there was still the humor that I adore–especially Michael's hysterical inner monologues. ("Mystery! Mystery! Mystery!" is one of my favorite Michael moments in each book so far, lol!) He made a few, ahem, mistakes along the way. One memorable oopsie being a serious case of mistaken identity. But it wasn't all giggle-snorts and belly laughs. There were actually a couple of somber scenes that broke my heart over Michael's anguish. That balance of light and dark in MJP's books is what I really love about her writing style, though. Even in a paranormal mystery/romance, there were realistic problems and genuine heartfelt moments that any reader could understand and empathize with.
Mimi Jean Pamfiloff continues to delight readers and leave us wanting oh so much more. With many questions still left unanswered, lots of fun Easter eggs for us to discover, and some *big* changes coming up in book 5, I can't wait to see what she does to us–er, I mean have for us next.
Book Info:
Publication: December 3rd 2019 | Mimi Boutique, a Paper & Silver, Inc. Imprint | The Librarian's Vampire Assistant #4
From New York Times Bestseller Mimi Jean Pamfiloff comes a snarky Mystery with a side dish of Romance and two sprinkles of chaos, THE LIBRARIAN'S VAMPIRE ASSISTANT, Book Four.
(Yep! These books are STANDALONES. But the more you read, the merrier!)
SHE'S MINE. BUT HAS SHE FORGOTTEN?
A crazy vampire has stolen my librarian. And if that's not bad enough, it is my fault. Because I, too, am an ancient, deadly vampire, and it was my job to protect her. I failed.
Now, just as I have reason to hope I will get her back, the situation turns into the biggest mystery of my existence.
Apparently, this evil vampire has brainwashed her into thinking she belongs with him. I do not know how. I do not know why. But I will get to the bottom of this and win her back.
Because I am the motherf*!$%ing librarian's vampire assistant, and she belongs to me. Or, at least she used to?