In The Marriage Lie by Kimberly Belle, Iris never dreamed that the day after celebrating seven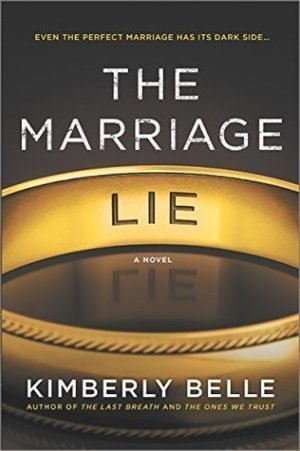 spectacular years of marriage to her loving husband Will, she would go to work only to find out that he has just been killed in a plane crash. She can't reconcile in her mind how a man she knew had been headed to Orlando for a business trip somehow ended up on a flight bound for Seattle. And that the plane containing Iris's favorite person on the planet crashed in a Missouri cornfield. It just can't be true.
'Whoever said God doesn't give you more than you can handle was full of shit, because this–this grief that slams me over and over like a Mack truck, this weight of missing Will that presses down on all sides until I can't breathe–is going to kill me.'
As Iris tries to piece together why Will was on the Seattle flight, more and more inconsistencies about his life come to light. She begins to realize that the man she thought she knew so well is basically a stranger. The only thing that seems real is her emotions: the pain she feels over his loss, the love she still holds for him, and the anger at the lies she's uncovered. But the information she's left to sort through ultimately puts Iris in a dangerous position. One that makes it nearly impossible to know who to trust and who aside from her family to turn to for assistance.
'How could Will do this to me? How could he leave me here all alone, unarmed and clueless, to fight this battle? I want to defend him, I want to defend us, but I don't know how. He's left me with nothing but questions. How am I supposed to prove everyone wrong?'
What. A. Thrilling. Ride. The Marriage Lie was a superbly written novel that just blew me away with its plot twists and with the complex human emotions it brought out in our main character Iris–and in myself–as we followed along on her astonishing journey.
'What else do I not know about my husband?
What else did he not tell me?
How many more lies?'
Talk about a book hangover! I think I'm going to need therapy after reading this story, just to purge my full thoughts about it. No, but seriously though, this turned out to be one of my favorite reads of 2016, if for nothing else than the sheer storytelling ability of author Kimberly Belle. I was completely on pins and needles the whole time I had this book in my hands and did not want to put it down for even a second. I loved the way Belle was able to build the tension in the story as well as convey Iris's swirling emotions so perfectly. It was especially easy to feel that frustration she had at not knowing who to trust and what the truth really was.
The premise behind The Marriage Lie was a pretty cool one, actually, and made for an exciting plot. It was like piecing together a puzzle and with each bit of information Iris learned, it added another layer to her husband Will's past, pointing her in a different direction to figure out the rest of the truth. I really liked Iris and thought she was a very relatable character. Her family, as well as a few other characters we met along the way, were equally as well defined and all were a big part of the storyline. I will say that some readers may end up wanting more from the story once it ends, to see where things went from there for Iris, but I felt like it was a shocking yet somehow realistic, fitting ending considering what we, and of course Iris, learned about Will.
A mystery/thriller at heart, The Marriage Lie also combined elements of romance and chick lit making this an unputdownable book that I will definitely be reading again. Very highly recommended.

Book Info:

Publication: January 1st 2017 | MIRA |
"Perfectly paced, highly suspenseful, and heart-rending…enthralling right up to the shocking final twist." -A. J. Banner, Amazon #1 bestselling author of The Good Neighbor
Everyone has secrets…
Iris and Will have been married for seven years, and life is as close to perfect as it can be. But on the morning Will flies out for a business trip to Florida, Iris's happy world comes to an abrupt halt: another plane headed for Seattle has crashed into a field, killing everyone on board and, according to the airline, Will was one of the passengers.
Grief stricken and confused, Iris is convinced it all must be a huge misunderstanding. Why did Will lie about where he was going? And what else has he lied about? As Iris sets off on a desperate quest to uncover what her husband was keeping from her, the answers she finds shock her to her very core.