Welcome to Harlequin Junkie's
4th
Annual

Reader Appreciation
#BOOKMAS
EXTRAVAGANZA!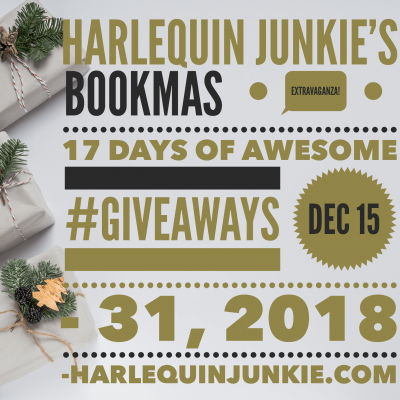 HJ's Bookmas Extravaganza is our annual celebration of YOU, our loyal and engaged readers of Harlequin Junkie blog and the romance community.

We would like to say Thank You for all you do; for all the tweets, shares, comments and for the fabulous job you do of spreading the word on all things bookish!! We <3 You!

On the 14th Day of #Bookmas…
Amazon Publishing gave to me:

 Montlake Romance Prize Pack (To 10 lucky readers)
A spotlight on a few upcoming 2019 Montlake Romance titles:

Montlake Romance launched in May of 2011, and is an imprint of Amazon Publishing, a leading publisher of trade fiction, nonfiction, and children's books; we deliver happily ever afters for all reading tastes.

We're thrilled to once again participate in Harlequin Junkie's Bookmas Extravaganza this year! We've pulled together an amazing romance book bundle for ten lucky U.S. readers. But first, here's a sneak peek at five of our upcoming Montlake Romance 2019 titles:

The Promise of Us by Jamie Beck (publishes April 2019)
They couldn't be more different…or more completely perfect for each other.
Claire McKenna knows about loss. The bullet wound that ended her promising professional tennis career drove her to make a quiet life for herself working with fabric samples, chatting with her book group, and spending time with her parents in her sleepy coastal Connecticut hometown. Then there was the boyfriend who dumped her to pursue her adventurous childhood friend. Now, Claire's business has hit a financial snag, but she's up to the challenge. After all, she can survive anything. At least she thinks so…until her teen crush, Logan, returns to town with his sister, Claire's traitorous friend.
Photographer Logan Prescott is more playboy than homebody. But his sister's illness teaches him that there's more to life than chasing the next thrill. Bent on helping her win Claire's forgiveness, he turns his charm on Claire and offers her big bucks to renovate his multimillion-dollar New York City condo.
After years of playing it safe, Claire must now take some risks. The payoff could be huge, but if it all falls apart, can her heart recover from another loss?

Faking Forever by Catherine Bybee (published March 2019)
From New York Times bestselling author Catherine Bybee comes a new First Wives novel about wanting a family…and finding love.
Shannon Wentworth's biological clock is ticking, and she isn't going to let her single status keep her from having a baby. When her wedding-photography business takes her to Mexico, she has every intention of finding a willing baby daddy to help her out. Until the bride goes AWOL, leaving Shannon to coddle the arrogant fiancé who has accused her of sabotaging his wedding.
Victor Brooks never could have imagined that he'd be on a honeymoon for one. Only here he is, taking a hard look at his life after the younger women he thought he loved walked out. The woman who volunteers to help him reflect is the last person he expects to be attracted to. Between the tequila, the sun, and one earth-shattering kiss, Victor finds Shannon a distraction too sexy to ignore.
They strike a deal: wait three months, cool off, and see if their tropical beach attraction is worth taking up when they go back home. Unfortunately, that's just enough time for the past to come calling. All their best-laid plans are at risk. So is the last thing Shannon expected to matter the most: her heart.

Tumble by Adriana Locke (publishes February 2019)
From USA Today bestselling author Adriana Locke comes a witty romance about first love and second chances.
After being burned by her dream job in New York City, sports journalist Neely Kimber suddenly finds herself jobless and paying a long-overdue visit to her hometown in Tennessee. Her plan? Relax, reset, and head back up the corporate ladder. There's just one unexpected step. Neely's back in Dogwood Lane for barely a day when she sees the man she ran from nine years ago: the bad boy next door who was her first kiss, her first love, and her first heartbreak.
Devoted single dad Dane Madden knows he hurt Neely in the worst way. He's got a lot to make up for. And as passionate as their reconnection is, it's a lot to hope for. Having her back in his arms feels so right. But falling in love all over again with a woman who wants to live a world away is bound to go so wrong.
What's it going to take for Neely to give him—and Dogwood Lane—just one more chance?

The (Half) Truth by Leddy Harper (publishes February 2019)
From bestselling author Leddy Harper comes a sizzling romance about an aspiring young chef who may discover that the perfect recipe for love involves all accidental ingredients…
Tatum Alexander is so close to realizing her dream of becoming a sous chef she can taste it, but working at her ex-fiancé's restaurant with his new girlfriend was never in her career plan. To save face and prove she's moved on, Tatum cooks up a lie that she's in a relationship with her best friend's superhot cousin. There's just one problem: Jason only recently moved to town, and he has no idea they're already "dating."
Jason's a recovering ladies' man who shouldn't be on the menu, but that doesn't mean he's immune to Tatum's quirky charm. Giving her lie a kernel of truth, they decide some no-strings-attached fun between the sheets can't hurt. But as Tatum's forced to keep making up stories to cover her original fib, she has a hard time separating what's real and what's fake—including her feelings for Jason.
With too many tales spun, Tatum can only watch in horror as her collection of yarns begins to unravel, leaving everyone she cares about feeling betrayed. After so many lies, will it be too late to set the record straight? And more importantly, will she be able to convince Jason there's truth in their love?

#Awestruck by Sariah Wilson (publishes January 2019)
A sweet all-American story of love and revenge.
Ambitious intern Ashton Bailey is about to get closer to her dream of being a sports announcer. All she has to do is prove that too-perfect-to-be-true NFL quarterback Evan Dawson isn't quite as wholesome as his contract requires. It's also the perfect opportunity to get delicious payback on the boy who broke her teenage heart. At least that's her plan. But she forgot just how easy it is to crush on the irresistible charmer. #OhNoNotAgain.
Evan has a knack for getting through the opposing team's defenses, and he won't let this tall, redheaded knockout be the exception. He's determined to make things right between them and earn back Ashton's trust—and maybe her heart, too.
Then the press mistakenly announces their engagement, and Ashton and Evan find themselves going along with the lie. Now the whole world is watching as Ashton flirts with attraction and disaster. But while revenge is sweet, it just might come at the cost of something sweeter still.



GIVEAWAY:

10 U.S. Readers will receive a Montlake Romance Prize Pack containing one copy each of the following Montlake Romance titles:
HATE NOTES by Vi Keeland and Penelope Ward
CHASING SHADOWS by Catherine Bybee
THE VIXEN by Christi Caldwell
ENSNARED by J.S. Scott
THE MEMORY OF YOU by Jamie Beck
DO YOU FEEL IT TOO? By Nicola Rendell
A BRAND NEW ENDING by Jennifer Probst
GOING DOWN EASY by Erin Nicholas
HOT ASSET by Lauren Layne
BURNING UP by Jennifer Blackwood
To enter Giveaway: Please complete the Rafflecopter form and

Leave a comment with your thoughts on the books spotlighted here, tell us which one(s) grabbed your attention & why?
From Naughty to Nice and Everything in between….
Be sure to stop by everyday from Dec 15 to Dec 31 2018 for a chance to win: Box-O-books, Gift Cards, Kindle, Audio books, Signed book bundles, Author Swag & more!