His Until Midnight by Reese Ryan is a sexy friends to lovers romance and the fourth story in the multi-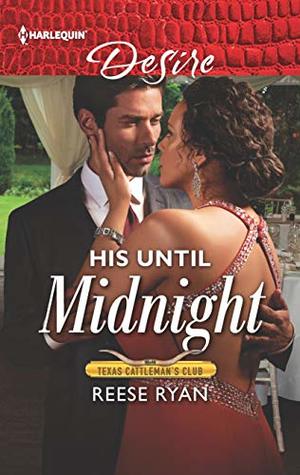 authored Texas Cattleman's Club: Bachelor Auction series.
Tessa Noble is doing her ill brother a favor when she fills in for his role in the charity bachelor auction at the Texas Cattleman's Club. She'll be the only bachelorette on the stage, the last 'date' of the night, and she's worried that no one will bid on her. Enlisting the help of her longtime best friend Ryan Bateman, she makes him promise to put in a bid if no one else does.
Ryan goes one better – he outlasts the competition and pays top price for a date with his favorite lady. Sure she's his best friend and they've never considered becoming anything more (though they did share that one kiss several years earlier…). Regardless of her plans for a football game and steak dinner night out together, when they find out there will be a photographer going along on their date Ryan decides to treat Tessa to a special romantic weekend for two. It's the perfect opportunity for them to find out if they could be something more. But will it be over and back to friends only when they return home?
I loved this sexy and fun story! Tessa and Ryan have been friends for a long time and have always been there for one another. It's no surprise that Ryan would be ready to bail out Tessa if needed. Once he sees her fabulous makeover for the auction, he's determined that no other man will get a chance with her, his protective instincts becoming possessive ones, to his surprise. But the truth is he finds her beautiful inside and out, whether she's all dolled up or ready to settle in for a night of movies in a comfy sweatshirt. Setting up a romantic weekend for her is another way to make her feel special and he cuts no corners in remembering all her favorite things.
One thing leads to another and they share some seriously sexy times in their hotel, promising themselves that it won't affect their friendship. But friends with benefits isn't enough when they are back home, and while they each come to the realization separately that they are in love with the other, it takes a bit of prodding from friends to make them take the leap and admit those feelings. While this couple gets their happy ending, there are some other story arcs set up that will continue into the next in the series. I'm looking forward to reading more of both the series, and this author!
Book Info:

Publication: Dec 01, 2018 | Harlequin Desire | Texas Cattleman's Club: Bachelor Auction #4
To the highest bidder goes…
A friendship with benefits?
When Tessa Noble takes the stage at a charity auction after a sexy makeover, her best friend, Ryan Bateman, must place the winning bid. It's definitely not because he's jealous. Their weekend getaway is a ploy for positive press…or so the rancher tells himself. But soon things take an unexpected turn from platonic to passionate, catapulting the couple far beyond the friend zone…