In Trails of Love by Melissa Foster, Graham Braden stops at a festival on his way to Oak Falls, where he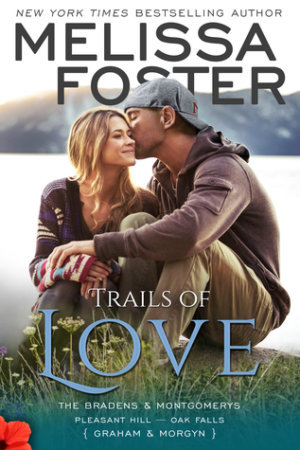 meets Morgyn Montgomery. There's instant attraction between the pair, and after the festival ends, they don't want to say goodbye. They unexpectedly meet up again at the wedding of Morgyn's sister, Grace, to Graham's friend, Reed. They decide to spend as much time together as possible. Graham is an organized businessman, while Morgyn keeps her business receipts in a shoe box. Graham wants a family, while Morgyn has no interest in marriage. Will Graham be able to change her mind?
The chemistry between Graham and Morgyn is electric and instantaneous. I liked how both of them were determined to live their lives to the fullest, and how Graham was determined to expand Morgyn's horizons. When she says she wants to travel, he becomes determined to make that happen, taking her away on his business trips. And when she comes up with an idea of what Graham and his business partner, Knox, can do with land they purchased, instead of deeming it crazy, they give serious consideration to it. Graham, in turn, helps her to decide what she wants to do with her own business.
Readers get a brief glimpse of the Pleasant Hill Braden's. As the Braden's always do, they embrace Morgyn with ease. Graham's sister even offers to sell some of Morgyn's products and helps to find others to do the same.
Readers also get to catch up with Morgyn's siblings. This book sets up the next book in the series, which will be Morgyn's sister, Brindle, and Trace Jericho. Those who have read the other books in the series are well aware of their on-again, off-again relationship. In this book, Brindle returns from Paris with a surprise for her family, and I can't wait to see how it affects her relationship with Trace.
If you haven't read any of the previous books in the series, you can still read this one without feeling lost. While the book includes characters from previous books, all of the books in the series work well as standalones.
If you're looking for a sweet romance with no drama, look no further. Trails of Love will charm readers both new and old to the series.
Book Info:

Publication: January 9, 2019 | World Literary Press | The Bradens and Montgomerys: Pleasant Hill-Oak Falls #3
When Graham Braden travels to Oak Falls, Virginia to attend the wedding of his buddy Reed Cross to Grace Montgomery, he sticks around to help with renovations to Reed's new theater. The last thing he expects is to be asked to assess and possibly invest in Grace's sister Morgyn's business endeavor. Graham is a careful, keen businessman, and Morgyn is impulsive, disorganized, and more interested in the energy flow in her eclectic retail shop than in the accuracy of her records. While Graham isn't ready to open his pockets to the sassy, sexy business owner, he may be ready to open his heart.