Welcome to Harlequin Junkie's
4th
Annual

Reader Appreciation
#BOOKMAS
EXTRAVAGANZA!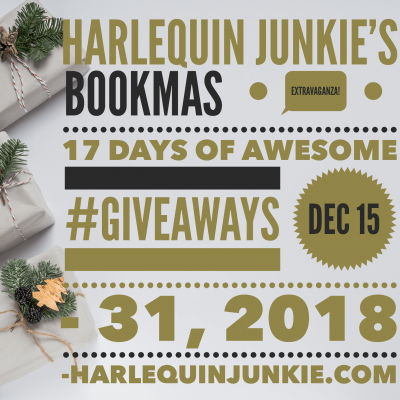 HJ's Bookmas Extravaganza is our annual celebration of YOU, our loyal and engaged readers of Harlequin Junkie blog and the romance community.

We would like to say Thank You for all you do; for all the tweets, shares, comments and for the fabulous job you do of spreading the word on all things bookish!! We <3 You!

On the 17th Day of #Bookmas…
Harlequin Books gave to me:

 $25 Amazon Giftcard
A spotlight on a few upcoming 2019 Harlequin Series titles:

THE SICILIAN'S BOUGHT CINDERELLA by Michelle Smart (Harlequin Presents, 9781335478054) out on January 15, 2019:
Posing as commanding billionaire Dante Moncada's fiancée at a glamorous society wedding is a far cry from Aislin O'Reilly's modest life, but she'll do anything to secure money for her sick nephew. The deal with Dante is strictly business—the gorgeous Sicilian playboy is danger personified. Yet soon their mutual explosive passion rips through the terms of their arrangement, leaving them both hungry for more…

A SOLDIER'S RETURN by RaeAnne Thayne (Harlequin Special Edition, 9781335984838) out on January 22, 2019:
Returning home to Cannon Beach and living in Brambleberry House, a place where good things seemed destined to happen, had brought Melissa Fielding and her young daughter such joy. Perhaps it was no accident when the single mom "bumped" into Eli Sanderson and discovered the handsome doctor was also back in town. The ex-soldier was still so captivating, but also more guarded. Was now the time to put old ghosts to rest?

MARINE FORCE RECON by Elle James (Harlequin Intrigue, 9781335640758) out on March 19, 2019:
Declan O'Neill's US Marines career is over, but nothing can stop him from saving lives. When he starts an organization that aims to help people who can't defend themselves, his first client is a woman desperate for answers. Grace Lawrence knows something happened to her roommate, and she's certain she can trust Declan to uncover the truth…though she wonders if she can trust herself with a soldier like Declan.

NEED ME, COWBOY by Maisey Yates (Harlequin Desire, 9781335603555) out on April 2, 2019:
For five years, Levi Tucker had no control over his life, locked up for a crime he didn't commit. Never again would any woman—any desire—overtake this cowboy's common sense. Now Faith Grayson, the sexy, brilliant architect he's hired to design his grand new house, is sorely testing his resolve. Faith is too young. Too innocent. Maybe just too tempting.

Harlequin is a global publisher of commercial fiction and a worldwide leader in romance fiction, with titles issued worldwide in as many as 32 languages and sold in up to 93 international markets. The company publishes more than 110 titles monthly and more than 1,300 authors from around the world. Harlequin is a division of HarperCollins Publishers, the second largest consumer book publisher in the world with operations in 18 countries. For more information, please visit Harlequin.com and Facebook.com/HarlequinBooks. Follow Harlequin on Twitter: @HarlequinBooks.

GIVEAWAY:

1 $25 Amazon Giftcard
To enter Giveaway: Please complete the Rafflecopter form and

Leave a comment with your thoughts on the books spotlighted here, tell us which one(s) grabbed your attention & why?
From Naughty to Nice and Everything in between….
Be sure to stop by everyday from Dec 15 to Dec 31 2018 for a chance to win: Box-O-books, Gift Cards, Kindle, Audio books, Signed book bundles, Author Swag & more!