The Downside of Love by Meghan Quinn is the second part of the Blue Line duet and provides readers with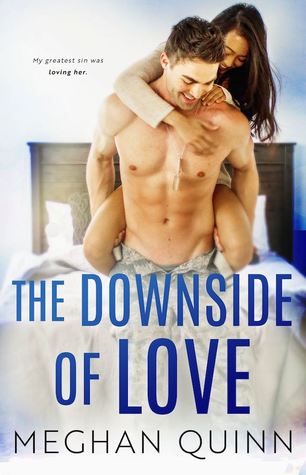 a tumultuous love story that is worth everything. One that will take you by surprise and offer you the happily ever after you crave. Happy endings don't always come as we expect them to and this author proves just that! The first book, The Upside of Falling, had Rory and Colby in a relationship. They were in love but forced in different directions. Colby returns only to find Rory has moved on and with someone unexpected.
Stryder comes from a long line of fighter pilots, but he didn't make the cut. Stryder is feeling out of sorts, and since his best friend, Colby, did make it, he's not handling the situation well. His home life is terrible and is drinking away his problems. With the help of a friend, he starts to take back his life. Stryder has had a thing for Rory from the very start, but stepped aside for his best friend, Colby. But Colby and Rory aren't together anymore and Stryder is desperate for her.
Rory is good at being needed. She's someone you can count on. She didn't count on falling in love with Stryder, but it happened nonetheless. Their relationship was built on friendship and gradually progressed into more. The relationship Colby and Rory shared is much different than the one she now shares with Stryder.
Navigating through life is hard enough, but when you add love into the equation, it becomes that much harder. Sometimes love can mean forever, for others, it can be temporary. No one really knows how it's all going to turn out and this duet gives readers a look into all the sides of love. Rory and Colby were in love, but eventually grew apart. Rory and Stryder developed a deeper connection and fell for each other despite all their issues. Love is unpredictable.
I loved all the characters in this book. Styder, Colby, and Rory were complex and garnered plenty of emotions out of me. After reading both parts of this duet, I will say that I agree with how it all turned out. I can see why some readers might be reluctant to read this, but, my recommendation is to bite the bullet and enjoy the full experience. By enjoy, I mean, go through Kleenex after Kleenex because of all the anguish and uncertainty. If you can handle the angst, definitely give this a read!
Book Info:

Publication: July 1, 2018 | Hot-Lanta Publishing, LLC | The Blue Line Duet #2
This isn't a story about a love triangle. There is no triangle involved.
This isn't a story about an accidental pregnancy. Although having a baby with her . . . I would.
This isn't a story about lies and deception, even though at times I've lied to myself.
No, this is my story.
A story about sacrifice.
A story about a man who fell in love with the wrong girl.
A story I wish I never had to tell.
This is a story about the true meaning of the downside of love.