On Broken Wings by Chanel Cleeton: Alex, aka Easy, is well known for being sexy,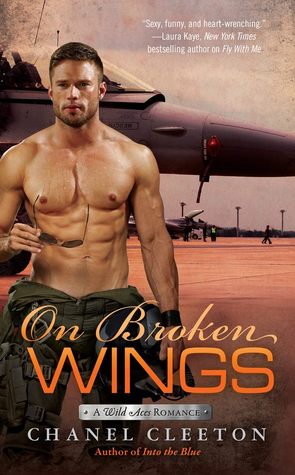 charming, confident, and for enjoying his single status. He has definitely used the fighter pilot line on any number of the endless one-night stands he's enjoyed. But he's also one of the most loyal and generous guys in the Wild Aces, a squad of fighter pilots.
Dani is just starting to come out of the fog of grief she's been living under for the past year. Her worst nightmare came true when her fighter pilot husband, Michael aka Joker, died. They had a great marriage and it's been quite the adjustment to no longer be a military wife.
Dani had been an invaluable source of support for all of the men her husband commanded in the Wild Aces, as well as their significant others. Since Joker's death, the Wild Aces have pulled together to support Dani in any way they could, but none more so than Easy. Easy and Dani had been friends for years while he endured the anguish of loving her. When Dani gets ready to put her house on the market, Easy is the one there to help her out. He again puts aside his own feelings to be the friend that she needs.
<<<quote>>>
"What about you? Now you'll burn."
I put my arm next to hers, my skin a golden tan against her pale coloring.
She grinned. "Point taken, Malibu Barbie."
I laughed. "I think you mean Malibu Ken."
<<<quote>>>
Their entertaining banter and sizzling chemistry highlight their growing closeness as they spend more time together. Easy supports Dani and provides her with a safe space to talk about her fears and the guilt of moving on. It becomes more difficult to remain only friends as they try to move on. Dani is confused over her changing feelings for the man she considers to be one of her closest friends.
<<<quote>>>
"Why would you wait for me? You could have anyone you want, someone who doesn't have all this baggage. Someone who could be normal."
Understanding filled his gaze. "What's normal, Dani? Who doesn't have shit they're dealing with? I don't know what I 'could' have, just that I've only ever wanted you."
<<<quote>>>
On Broken Wings packs a punch as the most emotional and heart-wrenching story of the series. Chanel Cleeton delivers a sexy, angst-fueled story on love, loss, courage, friendship, and family. Ms. Cleeton does a beautiful job of walking a fine line in a challenging story and didn't disappoint in a story that I was eagerly anticipating. I would recommend reading this series in order to understand the interconnections of the characters and interweaving storylines. Fans of Nicole Jacquelyn and Colleen Hoover will enjoy On Broken Wings.

Book Info:

Publication: Expected publication: January 3rd 2017 | Berkley | Wild Aces #3
The author of Into the Blue and Fly with Me returns with the newest, hot and high-flying Wild Aces romance…
A year after losing her husband, Joker, the squadron commander of the Wild Aces, Dani Peterson gets an offer from his best friend, Alex "Easy" Rogers, to help fix up her house. Dani accepts, and their friendship grows—along with an undeniable attraction.
Racked by guilt for loving his best friend's widow, Easy's caught between what he wants and can't have. Until one night everything changes, and the woman who's always held his heart ends up in his arms. Yet as Easy leaves for his next deployment, he and Dani are torn between their feelings and their loyalty to Joker's memory.
But when Dani discovers something that sends them both into a spin, the conflicted lovers must overcome the past to navigate a future together…