The Reluctant Countess by Wendy Vella
Synopsis:
From rising romance star Wendy Vella comes a Cinderella story of whirlwind passion between a dashing earl and a beautiful countess—and the secret that threatens to tear them apart.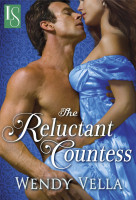 Regal, poised, and elegant, Sophie, Countess of Monmouth, is everything that a highborn lady should be. But Sophie is hiding a past that is far from royal. When Patrick, Earl of Coulter, realizes that her story doesn't add up, he resolves to find out the truth of what Sophie and her sister-in-law are concealing. Although Sophie has every reason to avoid him, the handsome and charismatic Patrick awakens something wicked deep within her soul . . . a powerful need that Sophie must stifle in order to protect her place in society.
Despite Sophie's humble background, the raven-haired beauty has won Patrick's heart. But what Sophie needs now is an ally. Viscount Myles Dumbly, the disgruntled former heir of Monmouth, is determined to expose Sophie as a fraud to recapture his lost inheritance. Soon Patrick is drawn into a fight for both their lives. Somehow he must find a way not only to rescue Sophie from poverty once and for all, but to keep her in his arms forever.
Giveaway: Sue @ RandomHouse has kindly offered 2 copies of The Reluctant Countess by Wendy Vella (US Only)
To Enter Giveaway: Please complete the Rafflecopter below and Post a comment: What did you think of the preview provided.