A Royal World Apart by Maisey Yates is a rivetingly emotional and passionate read; probably Maisey Yates best work yet.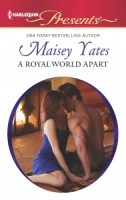 Princess Evangelina is destined for an arranged marriage, her rebellion is to cause a scandal hoping to derail the Marriage plan…. unfortunately her plan is a bit flawed and she lands her self in a bit of a soup…and under theprotection of Makhail Nabatov (Mak)
All Eva wants is a man who loves her, just her and a marriage that has nothing to do with politics…
It was nothing more than a fantasy. Some little girls dreamed of being princesses. She'd just dreamed of being. Of living on her own terms…
Mak is a widower who has loved deeply and lost; ridden with guilt he has shut himself off emotionally. Mak is guy bound with honor and vows and those very attributes has shaped him into the man he is today.
"Are you happy?" She asked.
"Happiness, in my mind, is one of life's biggest lies. People break so many things in the pursuit of happiness. Contracts, marriages, they destroy other people's lives to find a taste of it, and, yet it never lasts.
I LOVED this book; I think Maisey Yates has outdone herself here. The plot was deeply moving, portions of it were heart breaking and yet so heartfelt. Summarizing A Royal World Apart by saying it is the story of a Greek Princess and her bodyguard…. with a virgin hero, just doesn't do this one justice. This story is much more than that. It is about promises made and promises kept, it is about redemption and perseverance its about hope and ultimately LOVE. I would highly recommend this book.
My Fav Quote:
"I can't make you a queen, not in the eyes of the world. But I will treat you like one. I will give you everything I have to give."
Rating: HJ Top Pick!
Book Info:
Mass Market Paperback: 192 pages
Publisher: Harlequin (November 13, 2012)
When duty wars with desire, which one wins?
With her life mapped out since birth, Princess Evangelina Drakos—known for her dramatic flair—hopes the minor scandal she plans to create will deter potential suitors.
Hired for Eva's security, unemotional bodyguard Makhail Nabatov never makes a mistake, but the impulsive princess pushes his resolve to the limits. It's not long, however, before the beautiful and imprisoned Eva entices him to leave his bonds of duty and honor behind.
While their chemistry reaches fever pitch, Makhail knows he knows he must deny his desire—for Eva is promised to another man….