ionR: 
How influential are Book Reviews? 

How Likely Are You to Be Influenced by a Book Review?

Today we are asking you, the readers how (if in anyway) are you influenced by a book review prior to a purchase.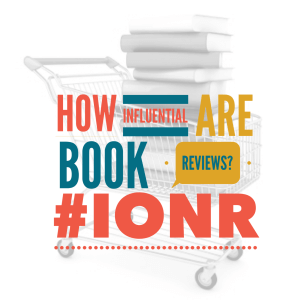 At one time or another we have all read reviews on an item regarding what we were looking to purchase. Often times it is important to see how others favored, used or disliked the actual item. In fact the most recent review I read was actually on an insulated tote that I wanted to purchase. I knew little about the tote except for the designer, but I knew that the bag was something I wanted. Thanks to a few, openly expressed reviews written by the customers who had already purchased and used the tote I was convinced into my purchase. I loved it. The same can certainly be said about book reviews.

Whether a blogger, author or even a professional review writes a review it's meant to somehow influence the reader into making a purchase or in some incidents to stray readers from making the buy. Reviews are meant to be helpful to a larger group of audiences such as to publishers, to author and of course to you, the readers.

In my opinion readers have the biggest job in the industry because you guys are the ones out there buying the books and supporting the authors the most.

For me my "duty," as we will label it, as a professional reviewer is to remain neutral . I'm not allowed to judge a book based on the fact that my favorite author(s) wrote it. There are guidelines to follow and rules that cannot be broken that the company that I review for has set. Basically those same rules apply to every blogger or reviewer. My opinion is meant to point out what I enjoyed about the book, the flaws, plot, romance and you get the general idea. The most important part about my opinion to readers is whether or not I would recommend the book, series or the author.

It may not seem like a huge deal to read a review, but it actually is. The company that I review for (Not HJ) currently hits over one million readers a month that read the reviews of professionals prior to making their purchases. That's a lot of readers being influenced and yet readers like yourself may not be as influenced as others and that's fine.

The best part about being a reader is being an individual. We all know what we love about books and even some of the traits that we do not like. Of course it is perfectly alright to be undecided and need help prior to making our purchases and that is what reviews are all about.
How likely are you to be influenced by a book review? What if anything does influence you into the purchase of the book? Tell us as we would love to know what your thoughts are! 🙂