*ionR: 
Should historical-romances feature erotic love scenes?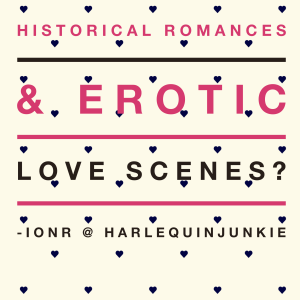 Today we are discussing whether or not readers think that a historical-romance should or should not feature erotic love scenes. Please join us.

I will make a confession and announce that I am devoted reader to historical-romance novels. I find there is something imaginary, desirable about a rogue, a duke, a pirate or even a knight that is highly appealing. In fact if you were to explore my upstairs library (two guest rooms combined) it would be easy to define which genre is my favorite, historical-romance. From dancing on ballroom floors, to mighty steeds and let's not forget a fairy tale ending there is something in this genre that demands to be read. Yet, lately I have discovered a new trend among historical authors and that is adding erotic love scenes to many of these eras.

Yes, that was correctly read as erotic, love scenes are currently sweeping throughout the genre and taking readers such as myself by storm, quite literally I might add. To be bold in my writing I am not thrilled about this idea. To be clear I do enjoy an erotic romance from time to time, but both the plot and the characters have to be written in a contemporary style for me to enjoy such stories. That doesn't mean that I haven't read my share of erotic, historical-romances and have actually liked some of what I have read because I have. Still, it's rare for me to favor these novels. Why? The behavior just seems out of place in a historical-romance (IMO).

There are a great deal of factors that can cause this dilemma. The largest issue is that authors are beginning to think outside of the book. I have to give points to such authors for thinking of new ways to attract readers. The real question however is-does erotic historical-romance lure readers? Let's explore a few of both the pros and the cons.

The Pros:
Readers are certainly in for something uncommonly unique in the reading of the rated X love scenes that have not been uncovered before in the genre.
Authors that dare to write such suggestive bedroom action generally know the proper direction to take their romances from steamy to smoldering hot.
Erotic behavior has always been around and so it seems almost natural that certain novels/authors want to bring this conduct to life in any genre and by doing so could possibly bring their novels to more relatable terms among modern readers.
The Cons
The X-rated scenes tend to be over kill in the novels. Personally, I can only take so much sex before I am ready to shut the book for good.
Most stories written in this genre involve heroines that are unwed, high members of society and so it seems unfit that such ladies would be eager to tour erotic X in the bedroom with a hero that has a scandalous reputation.
Emotional/physical abuse are often overly featured in erotic romances and this abuse does apply to some historical-romances that I have read. Any abuse in my opinion needs to be omitted, but it is hugely out of place in this genre.

Whether or not that you have read such material or even consider yourself a reader of historical-romance there is an opinion. Erotic, historical-romance has sparked a immense debate among readers.

So it's time for you guys to tell us what you think because you know we love reading your thoughts.
Do you think that historical-romances should feature erotic love scenes? Do you enjoy a erotic romance? Why or why not? Please let us know.


*ionR: I on Romance Books & More…