In Suddenly Last Summer O'Neil Brothers #2) by Sarah Morgan,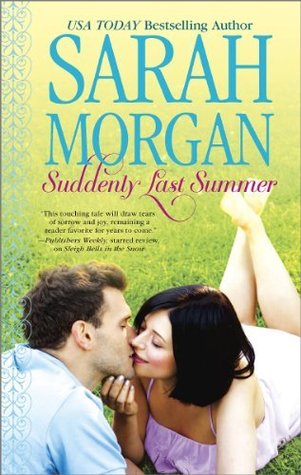 Orthopedic surgeon Sean O'Neil left Snow Crystal, Vermont, behind to pursue his dream job in Boston years ago. Being the go-to surgeon for ACL sports injuries has its perks, including a seemingly endless supply of women to date. Sean knows he will only ever be married to his job. But it doesn't help him forget the incredible night he spent with chef Élise Phillipe at his family's resort last summer. When he visits his family again, the memories come rushing back, just like the attraction Sean feels for Élise. Neither of them want a relationship. Although it might be difficult to convince his heart otherwise.
"Stop looking at me like that."
"How am I looking at you?"
"As if you want to strip me naked."
He felt the tension leave him. "Stripping you naked is just the beginning of what I want to do to you. Do you want to hear the rest?"
Élise couldn't have asked for a better fit when she began working for the Snow Crystal Resort's Inn as their main chef. She was happy to move on from her home in Paris and create a new life with her friends the O'Neils. Then she had one of the sexiest nights of her life with Sean. Élise thought she had put it out of her head until she sees him again. The crazy connection they have has only grown more intense. So much so that it scares her. With Sean hanging around the resort a bit more, it will take all the willpower Élise has to keep things casual.
"I want you." His voice was raw and honest. "And you want me. It's simple."
But she knew it wasn't simple. Relationships had a way of becoming complicated really fast.
Suddenly Last Summer is the refreshing second book in Sarah Morgan's O'Neil Brothers series. Be prepared to fall in love with Sean and Élise as they attempt to deny their true feelings while their friends and family watch on in amusement.
I was lucky enough to read Jackson's story in book one, Sleigh Bells in the Snow, and loved the O'Neils right off the bat. I thought the family dynamics were still just as intriguing as ever between Sean, Jackson, their younger brother Tyler, their mom and grandparents. Getting to learn all about Jackson's twin brother Sean, and about their fiery French chef, Élise, was a pleasure this time around. Author Sarah Morgan did a fantastic job building the sexual tension between these two characters while still letting the stories around them evolve as well. There was a lot happening in Snow Crystal, with it's inhabitants and guests, but the activities didn't take away from the story. To me they only enhanced it.
I really liked Sean and Élise quite a bit. They were both workaholics and perfectionists, so a relationship for them would be a little tricky to navigate. And I found it almost comical how much they denied their feelings. They had mad-crazy attraction to each other but neither one would admit what that truly meant. I thought their dialogue was a lot of fun but still had that serious edge one would expect from their personalities. I loved how Élise felt every emotion so deeply and gave herself over completely to whatever project she was working on. She's someone I would love to have as a friend…blatantly honest but at the same time super caring.
If you enjoy contemporary romance novels with a huge amount of passion between the main characters, I think you'll really enjoy reading Élise and Sean's romantic journey.
Book Info:

Published June 24th 2014 by Harlequin HQN
Bestselling author Sarah Morgan delivers another irresistible hero in her O'Neil Brothers series who's more tempting than dessert and twice as sinful!
Fiery French chef Élise Philippe is having a seriously bad day. Not only have the opening day plans for her beloved café fallen apart, but Sean O'Neil is back in town, and looking more delectable than ever. Last summer, they shared an electrifying night together…and the memories have Élise really struggling to stick to her one-night-only rule! Her head knows that eventually Sean will be leaving, so all she can do is try to ignore her heart before she spontaneously combusts with lust.
Being back in Vermont—even temporarily—is surgeon Sean O'Neil's worst nightmare. For Sean, returning home to the Snow Crystal Resort means being forced to confront the reasons and the guilt he feels about rejecting his family's rural lifestyle years ago. But discovering that Élise has settled in Vermont and still sets his blood racing is a very welcome distraction! Thinking he can persuade her into a replay of last summer is tempting, but remembering how good they are together is going to make walking away more difficult than he could imagine…