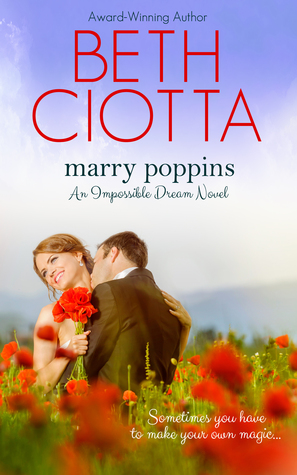 Marry Poppins by Beth Ciotta a is a well paced small town romance with a lot of emotion. All Georgie has ever wanted is a husband and children…a family of her own. This has eluded her though, so she turns to unconventional means to achieve her dreams – Impossible Dreams.com. With no response from them after a few months, Georgie has all but given up. Then the man she's secretly always loved has a need she can fulfill…what starts off as a convenient arrangement soon starts to feel like so much more. But is it meant to be? Time and trust will tell…
I enjoyed this saga in Beth Ciotta's Impossible Dream series. Georgie is a strong heroine who I really felt like I got to know in Marry Poppins. With a fairy tale feel to it, Georgie puts a lot of faith in Impossible Dreams.com and starts to doubt herself at times and her real life decisions. This is an interesting part of the plot, because Georgie and her friends really believe in the magic of Impossible Dreams.com, and I liked how this was written in to reflect on their lives. I really liked Georgie, and the more I got to know her the better I understood her. She is fun, entertaining and smart, but she hides a lot of insecurity underneath it all. I really felt for her at times. I liked Bryce, even if I didn't get to know him as well as I felt like I knew Georgie as Marry Poppins progressed. This worked well though, and his layers are slowly peeled away. I liked the chemistry between them, the connection, and the underlying feeling of rightness…even if they couldn't always believe in it.
I liked how Beth brings Georgie and Bryce together as adults, and watching their relationship grow was heart warming.
I really like the group of girl friends that is part of every Impossible Dream book. They demonstrate true friendship in the best ways. All of the secondary characters are strong additions to Marry Poppins, and I particularly like Bryce's father.
With skeletons from the past to deal with and present day trouble, living in the present is a good lesson to take away from this…live your dreams!
I'd recommend Marry Poppins to any romance reader!
Book Info:

 February 2016 | BC Ink | Impossible Dream #3
When fate bobbles your dream, sometimes you have to make your own magic….
Award-winning author Beth Ciotta presents 'Marry Poppins', the third book in the contemporary fairy tale series—Impossible Dream—celebrating hope, love, and the magic of the human spirit!
Reader Advisory: Feel-good romance with humor and heart! Mild sexual content and profanity. For fans of quirky love stories.
BOOK DESCRIPTION
She wants a family. He needs a wife. A marriage-of-convenience solves a myriad of problems for unlucky Georgie Poppins and down-on-his-luck Bryce Morgan. Falling in love wasn't part of the bargain so no one is more surprised than Georgie and Bryce when sexual sparks ignite a full-blown romance. Unfortunately, as love swells, trouble mounts, including a glitch at Impossible Dream.com—an Internet company designed to match people with their most avid desire. Maybe Georgie and Bryce weren't meant to be after all.