Today it is my pleasure to welcome New York Times Bestselling author

Katee Robert

to HJ!
I asked Katee what her Top 5 scenes from
Two Wrongs, One Right

were, here are here answers: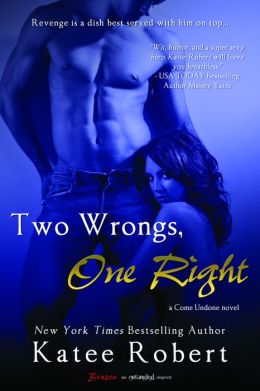 1) When Chelsea first sets eyes on Nathan again. These two have so much history, and, of course, she's furious because he didn't even have the decency to get fat or start balding.
Realizing she was practically rubbing against him like a kitten in the presence of catnip, Chelsea snatched her hands off his chest.
2) The moment when Chelsea finally steps up and turns the tables on Nathan. He's thrown her for a loop and pushed her into a situation she doesn't think she wants, so she just props her chin in her hands and beats him at his own game (can you tell I love this heroine?)
"I remember, you know. I remember how much you liked it when I met your gaze while I was going down on you."
3) Seeing Ian and Gabe actually working together. Sure, it's against Nathan, but I love how the two of them manage to find common ground in their both caring about Nathan.
"That's Chelsea Callaghan you have up in your room. She's about as likely to cause a scene as the devil himself is to show up at my wedding and challenge Ian here to a fiddling war."
4) The scene in the amphitheater. These two have gone to hell and back in the days leading up to this with their constant battle to get the upper hand while keeping their hearts under guard. This moment is the tipping point when things start to change and the combination of sexy and sweet still gets me.
She reached up and traced the Big Dipper. And then she kept going, her finger moving from star to star, over the constellation no one knew about but the two of them.
5) Pretty much every scene with Chelsea's best friend, Danielle, though this one is my favorite. She shows up, ready to throw down with Nathan, just because Chelsea sent an SOS text. Of course, Danielle can't keep her thoughts to herself to save her life—and she didn't expect Nathan to be quite so delicious!
"And I don't even know why we're having this conversation. You should be naked and climbing him like a tree."
Giveaway:

digital copy of Wrong Bed, Right Guy 
To enter Giveaway: Please complete the Rafflecopter form and post a comment :
Tell me what did you think of the little snippets provided? Did they grab your attention? want to read more? 🙂
Book Info
Eight years ago, former Army sergeant Nathan Schultz let the love of his life disappear without a fight. After watching everyone around him find happiness while his slipped further away, he's finally ready to fight for Chelsea Callaghan—and he's not afraid to play dirty.
Chelsea has always followed her conservative family's rules—with one heartbreaking exception. When she receives an invitation to an old high school friend's wedding, she knows who's to blame. Though she goes solely to give Nathan a piece of her mind, he blackmails her into staying the entire week. With him.
There's no way she'll bow to Nathan's will without making him pay. Unfortunately, revenge is a dish best served fully clothed, and they can't be in the same room without losing theirs. As insatiable, anger-fueled lust shifts into something more, they begin to lose sight of why they can't be together. But with so many unforgivable wrongs between them, can Nathan and Chelsea ever make things right?
Blog Tour Giveaway: a Rafflecopter giveaway