In Adam's Boys by Anna Clifton, Adam had a fling with Abbie soon after his wife's death but he left her after feeling guilty over neglecting his three month old son, Pete. Unknown to Adam,their fling had consequences in the form of their son, Henry and now after four years of their last meeting they come face to face once again. Abbie had never regretted having Henry and now she finally wants to reveal his identity to the father when they meet again. On knowing about his son, Adam is hell bent on creating a family for both his boys and he is even willing to blackmail Abbie to achieve what he wants.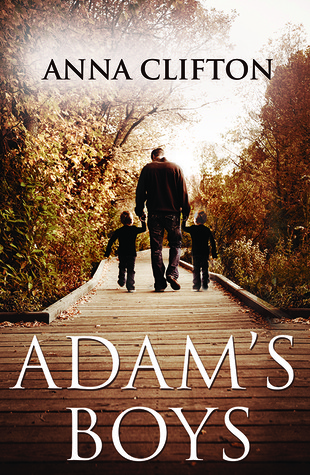 Pete and Henry start becoming closer right from the day one but the journey in becoming a complete family is difficult when Abbie and Adam are not so ready to accept each other in such a short duration. Abbie's past makes it difficult to trust everyone and Adam is still hung up on his wife's death. Will these two overcome the obstacles to become a complete family..??
"My car keys are up on the bench where we were sitting," Adam tossed at Abbie as he
walked past where she stood statue-like on the promenade. "Take the boys home to your
place. You'd better keep Pete for the night too."
And with that Adam headed for the road and didn't look back.
"Is Dad really mad at us?" Pete asked uncertainly as he and Henry appeared at her
side, staring after Adam's hunched and lonely figure as he disappeared across the park.
"No, honey," Abbie replied. "Adam's not upset with either of you. He's upset with
me."
"Boy, you must have done something really bad," Pete suggested, looking at Abbie
with fascination in his wide, brown eyes. "He walked into the water with all his clothes on!
I've never seen Dad do anything like that before!"
"I did do something really bad. I didn't tell him something important that I should have
told him long ago."
"Is that why he's so sad?" Henry asked.
Abbie nodded as she fought for air. Because the two little boys at her side had seen within moments what it had taken her years to finally work out: her secret would crush their father completely.
This was a beautiful and well written story.Henry and Pete were adorable and the stars of the story for me because I loved them and the connection they shared right from the start.Adam was cold,distant and not so driven by his emotions and Abbie was his complete opposite. They both were good characters and the best thing they both had was their relationship with the boys.I loved the outdoor settings of the story and narration,which was just the right pace for me.The romance was sweet and emotional at times with no unnecessary dragging.
Overall Adam Boy's by Anna Clifton is a sweet, short, fast paced and emotional romance which is worth reading and if you like romances then there is no doubt you will love this.
Book Info:

Publication: September 1st 2013 by Escape Publishing
Wrong girl — wrong time? Adam's fling with Abbie just weeks after the death of his wife may have been all wrong, but their time together gave him the strength to return home to his newborn son, Pete, and start their new life together.
Wrong guy — wrong time? Abbie's fling with Adam may have been all wrong, but their time together gave her Henry, the sunshine in her life, and although Adam is long gone, Abbie can never regret the time they spent together.
But two wrongs don't necessarily make a right. Adam Cooper is back, and when he learns the truth about his unknown son, he is hell-bent on creating a home and family for his boys, even if it means blackmailing Abbie into taking part.
Abbie has scars from her own tumultuous childhood, and losing Henry would destroy her. But with only mistrust and pain to bind them, can she and Adam ever find a way through regret to love and the family they could be?