In After the Kiss by Lauren Layne, Julie Lane is one of the three princesses of Stiletto magazine, she covers all about dating while her two friends cover dating and sex. She loves her job and all that it involves, the first date, the first kiss, the first time together. But that is as far as she goes into relationships, she won't go on more than three dates.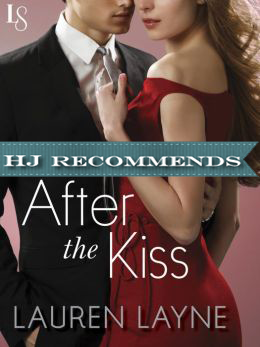 Mitchell Forbes works on Wall Street, and for him it has always been about stability and long lasting relationships. He even had a ring picked out for his last girlfriend and had planned on proposing! But when it came down to it he ended up breaking up because there wasn't enough in their relationship. Now he is single again but he is still looking for the one that will be his wife.
Now Julie is being asked by her boss to go into that area she has never gone to, she has to write an article about how to take things from the first date to a relationship or she gives her article to Julie's biggest rival. Julie will have to put on her big girl panties and figure out how to do this, but she doesn't even know where to begin, until one of her friends tells her to date someone and take it just into the beginning of the relationship before it becomes serious and then breakup. Now she just needs to find the perfect candidate.
Mitchell doesn't like parties, but like everyone in their office he has to go to at least one charity where the boss donates. Which is how he finds himself in the bar with his friend and co-worker drinking watered-down alcohol. But as they are talking his friends tells him that Mitchell just can't do flings. He is always looking for something permanent and can't do a simple fling, ever. Mitchell knows it's true but just won't accept it as the truth and ends up accepting a bet that he won't be able to have a fling without taking it to the next level.
Julie and Mitchell are two completely different people are now looking for the one thing they don't like or want. But being at the same charity event and having friends who happen to know the each other brings them together.. Now the fun will begin for they will have to find a way to get what they want and not get in too deep.
I won't tell you everything that happens, but I can assure you that this is one fun and sexy read. Julie and Mitchell will try to one-up each other each and every time, but only to keep themselves from falling in deeper than they already are. But the pain or hurts they inflict on the other will pain them more than as if it were done to themselves. And I'm glad to know that the next book due to release on Dec 13 will feature Grace who will keep you wondering what happens with her afterwards.
For a fun, sexy and sweet romance of opposites attract, don't miss After the Kiss by Lauren Layne.
Book Info:

August 26th 2013 by Random House Publishing Group – Loveswept
Sex, Love & Stiletto Series
Julie Greene loves flings. Loves steamy first dates, sizzling first kisses, and every now and then, that first sexy romp between the sheets. Comfy pants, sleepy Sundays, movie nights on the couch? Shudder. But when Julie gets assigned the hardest story of her career—a first-person account of that magical shift between dating and "I do"—she'll need a man brave enough to give a total commitment-phobe a chance at more.
Normally, Mitchell Forbes would be exactly that man. A devastatingly hot workaholic who tends to stay in relationships for far too long, he should be the perfect subject for Julie's "research." But what Julie doesn't know is that Mitchell is looking to cut loose for once in his life. And the leggy journalist notorious for avoiding love is exactly the type of no-strings fling he's looking for. In other words, Mitchell is the polar opposite of what Julie needs right now. And, at the same time, he's exactly what she wants.
Add to: Goodreads.