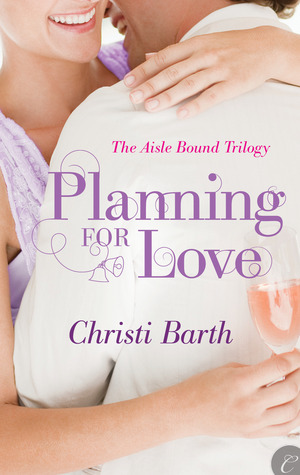 Planning for Love by Christi Barth (Aisle Bound Trilogy #1)
My rating: 5 of 5 hear
Published August 1st 2012 by Carina Press
Book Blurb:
Hopeless romantic Ivy Rhodes and anti-Cupid Bennett Westcott request the pleasure of your company for their disaster of a courtship
Wedding planner Ivy Rhodes is the best in the business, and she's not about to let a personal problem stop her from getting ahead. So when she's asked to star in the reality TV show Planning for Love, it doesn't matter that the show's videographer happens to be a recent—and heartbreaking—one-night stand.
Bennett Westcott admits he didn't handle his encounter with Ivy very well. But looking at her beautiful smile—and great body—through a camera lens every day? He can't be faulted for suggesting they have some no-strings fun.
The more time they spend together, the more Ben realizes Ivy isn't the wedding-crazed bridezilla he'd imagined. But if he doesn't trust himself to make a relationship last, how can he convince Ivy to give him another chance?
Review:
I have never been one for reading books about wedding planners, I am more a bride and groom's road to the altar kind of girl but with this one I was pleasantly surprised and very much delighted. The book is a perfect 10!
The book told of Ivy the super organized wedding planner and her sexy as sin one night stand photographer,Ben. Reading about these two tip toeing around each other after their super hot encounter heated up the pages and I could not get enough !
The blurb will give you a very good idea what is to come but what follows is more than just your average story of love. The extreme passion and pure emotion that the author packed into this one was simply put superb!
Favorite Quote:"I don't know how anyone can stay dry eyed at a wedding." Easy. Know the divorce stats."
This book took me behind the scenes of what all goes into planning a wedding. I never actually thought about the little details that are needed to bring a wedding together for a bride and groom.
I adored the glimpse into the world of wedding planning and the unfolding relationship between between Ben and Ivy is explosive !
Having never read anything by this author before I can with all honesty say that I will definitely be a returning reader and I am glad to have been introduced to the author's captivating style of writing.