In 10 Rules to Sex Up a Blind Date by Heidi Rice, Tally Gladstone has taken her horrible luck with blind dates and turned it into a loyal following on Twitter as @BlindDateBitch. She anonymously posts the sad yet hilarious encounters she endures, much to the amusement of women every week. Tally's latest failure may have given her a grain of hope, however, when her date Sam–who is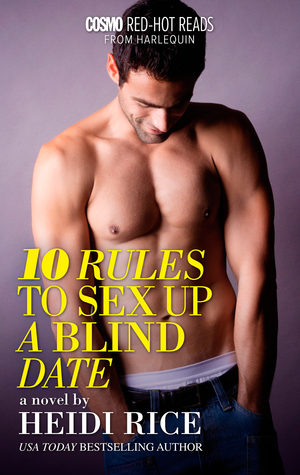 gay–offers to set her up with his very much straight and very handsome friend Brent. Tally isn't looking for lasting love after being burned by her last boyfriend. But she will gladly have a one-off with Brent once she realizes how sexy he truly is. After their chemistry takes off like a rocket, Tally realizes she'd better keep control of her emotions or she'll be in deep trouble before the night is over.
'No way was she recruiting amateurs, or fumblers, or, God forbid, guys with a relationship agenda. Project Get Laid was strictly a player-only, no-complications-allowed initiative.'
American in London, Brent O'Neill is a tech savvy man who is just recovering from the damage his divorce did to him a few years ago. He wasn't looking to hook up with anyone but couldn't say no when his pal Sam introduced him to Tally. Gorgeous, straight-forward, and with a lovely British accent, she is everything that sets Brent's heart pounding. When he can't say no to a night of decadence with Tally, he goes into it with no attachments in mind. In the light of day, however, he's sure he felt a connection to her which scares the life out of him. But thanks to a mix up of epic proportions, Brent isn't sure if he's been used again or if they may have a true future together.
'Somehow this woman, with her smart mouth and her kick-ass attitude, had made him yearn for something he thought he'd never want again. More than an anonymous hook-up. More than hot sex.'
What happens when two jilted people are set up on a blind date, lush with intense chemistry, only to have a huge miscommunication push them over the emotional edge? You get the steamy novella: 10 Rules to Sex Up a Blind Date.
I think I say this every time I review a Cosmo Red Hot Reads story, but WOW! Our hero and heroine had off-the-charts, insane lust for one another that made for some super fun, and super dirty, love scenes. Author Heidi Rice hooked me from page one with Tally's discovery that yet another blind date was ending with her going home alone. I loved that at least her date, Sam, was really sweet and honest about being gay, and even helped hook her up with his (straight) buddy Brent. Sam was a secondary character to the story, yet an endearing one who had a pivotal role in Tally and Brent's budding relationship.
I thought it was interesting to watch Tally and Brent dance around each other emotionally, given that they'd both had bad experiences a couple of years prior. I could definitely understand neither one of them wanting to get burned again. And don't get me started on the dialogue. Holy. Hotness. I love strong female characters who aren't afraid to voice their opinions, and Tally certainly fit that bill. She was so feisty and sassy, it was a hoot to get to know her. Brent was no slouch, either. He was also a strong character who had that whole geek-chic thing happening, with a filthy mouth that could make a sailor blush.
I definitely recommend this quick, flirty novella. I connected easily with the characters and I hope you'll find the storyline as entertaining as I did.
Book Info:

Published October 8th 2014 by Harlequin
#WorstDatesEver
After a nasty breakup, Tally Gladstone has no interest in anything serious. But she's dipped her wary toe back into dating with a few blind dates—all bad…or worse. The only good thing to come out of it is a sizable following on social media. Her latest date is doomed from the get-go—he isn't even straight. But at least he knows someone who meets her every very exacting wish
#EpicHotLover?
American-in-London Brent O'Neill is everything she wants—on paper. He's hot, sexy and emotionally off-limits. Tally can play all she likes without getting burned. He's so good in bed he's addictive. But her millions of social media followers want disaster, not boring-ever-after. They might get their way yet—how is she going to walk away before her heart is in tatters?