Too Friendly To Date by Nicole Helm: Leah Santino has a secret, well really she has a bunch of them, it just depends on who she is dealing with. Her family? Her friends? Her boss? She has kept so much inside for so long she is starting to wonder if she really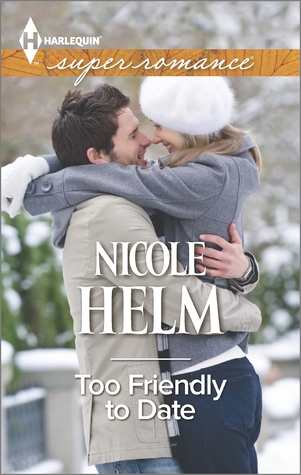 knows the truth any more. All she really knows is that she wants desperately to be normal and yes that includes a really hot relationship with her friend/boss/best friend's brother. That's not a recipe for disaster, right?
Jacob McKnight is pretty used to the women in his life not telling him the truth and being hurt/ill when he can do nothing about it. So he pretends not to care, then goes about making everything as perfect as he can for everyone in his life. Perhaps this is the reason his relationships don't last? You can't fix up a perfect mate.
When Leah comes to Jacob to ask him to be her pretend boyfriend while her parents are here neither one has a great feeling about it. As the time goes on that feeling becomes more than one feeling and now they both have to figure out what they want to have happen and as the past comes to life in front of them, they realize that they may not have the choices that they once thought.
This is the second book in this series, Bluff City, and while it can be read as a stand alone, I didn't realize it was a series until after, I think it would be beneficial to have read the first one first. That said this was a spectacular story that went beyond the typical boss/worker relationship. This story was certainly a romance but played to human nature and to familial relationships more than most romantic novels. Ms. Helm takes you into a world where life isn't perfect and families may have the best nuts of all in them because they are yours. This is definitely a sweet and heartwarming read.
Book Info:

Publication: October 7th 2014 by Harlequin Super Romance Series #1955
One little white lie…one big explanation!
Okay, pretending her sexy boss is her boyfriend is more like a huge white lie. But electrician Leah Santino will take the risk. If her parents think she has someone, they won't go back to smothering her, and they can all be a family again.
Problem is, Jacob McKnight isn't just her boss—he's her friend. And faking a relationship when the Santinos come to visit means those sparks she's always tried to ignore are hotter than ever. This thing between them is starting to feel real, but Leah has a very good reason to stay independent. Unless that's one lie that's outlived its purpose…