10 Ways to Handle the Best Man by Heidi Rice: Sabrina Millard has a plan and list for completing her role as a maid of honor at her best friend's wedding successfully. She has everything under control and things are going according to her plan except her equation with super sexy and super successful best man and the groom's half brother, Connor McCoy. Their last disastrous encounter sealed their mutual dislike for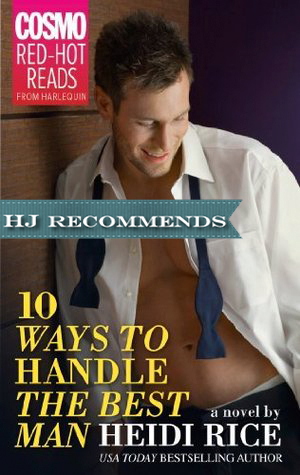 each other but now mutual attraction is slowly overpowering the dislike. Soon they both are engaged in a sexy seduction which starts..um… right under the table at the rehearsal dinner!
When the bad boy seduces the good girl, rules are broken and seduction just got a lot more hotter.
This. was. HOT and I absolutely LOVED it!
'You've got a hell of an attitude on you.' Cynicism edged the word and a muscle twitched in his jaw. 'But then, I like attitude in a lady.' The tingles in her arm sunk beneath her belly button at the heat in his voice. 'Especially in bed. It gives me that much more to tame.' She jerked her elbow free this time, her sympathy evaporating—unlike the bloody tingles.
Tame, my arse.
'I'd strongly suggest you don't try to tame me. Or you're liable to get more than you bargained for.'
10 Ways to Handle the Best Man by Heidi Rice delivers everything you expect from a Cosmo Red Hot Read. Connor is a sexy, successful and self made business man with an unhappy childhood. He is an arrogant playboy with all the bad boy qualities but despite his faults, you just can't help loving (or lusting after) him. Sabrina Millard is the ultimate good girl with an I-can-fix-everything attitude and a carefully planned life. I loved her because she is confident and holds her own against Connor. When she discovers her reckless side with a little help from Connor, the story gets a lot more interesting. Heidi Rice handles the seduction scenes very deftly and the well written and exciting kinky scenes are a complete delight to read.
'I don't remember giving you permission to touch me.' She squeezed his trapped fingers to emphasise the point. Given all the spin classes she did religiously he ought to be feeling quite contrite by now, but he didn't even flinch.
'And I don't remember asking for it.'
Novellas are not easy to write because so many things have to be packed in a few pages. Often this leads to an incomplete story with underdeveloped characters. But Heidi Rice manages to write a sexy story which is complete in every sense and leaves you completely satisfied in the end.
Overall,10 Ways to Handle the Best Man by Heidi Rice is a hot, sexy and a very addictive read. Cosmo Red Hot Read just got a lot better and hotter with this one..!
Book Info:

Publication: January 14th 2014 by Cosmo Red Hot Reads from Harlequin
The maid of honor's to-do list for handling the best man:
#1 Charm him.
#2 Find out everything about him from friends and family.
#3 Size definitely matters: especially when it comes to the ego. Tread carefully if he has a big one….
Sabrina Millard has a plan and a list for everything, including her role as maid of honor at her BFF's wedding. The best man is a whole different matter. She knows Connor McCoy is trouble–she once had a disastrous encounter with him years ago. Now that he's supersexy and supersuccessful, it's even worse. Especially as he's just proved who's in charge by shattering her legendary control…under the table at the rehearsal dinner!
Connor's having fun seducing prim Sabrina. Which is so wrong–she's the ultimate good girl, while his past is…complicated. Only Sabrina has him breaking all his own rules…