In 99 Percent Mine by Sally Thorne, Growing up with her twin brother, Jamie, who basked in all the glory of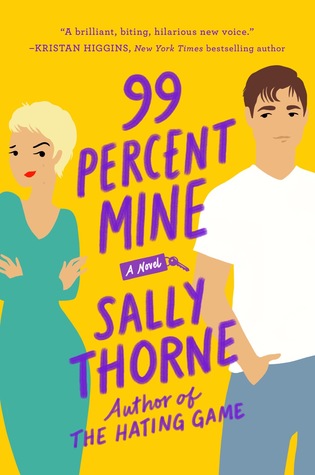 being a few minutes older–and being healthier–photographer Darcy Barrett knows a thing or two about feeling out of the loop. That's why in grade school, when their new neighbor Tom Valeska appeared to be an outcast like her, Darcy immediately felt a kinship with him. As the years progressed, though, that connection turned into one of a more decidedly romantic nature. At least on her part. But with Tom deemed her brother's best friend, he's remained out of her reach, forcing Darcy to settle for guys who she knows will never be as perfect for her as Tom would.
That complete honesty I pledged? Here it comes. Up my throat and out loud. One big terrifying blurt.
"Are you going to put your hands on me, or what?"
The death of Darcy and Jamie's beloved grandmother hits them both hard and means they must follow her instructions to renovate and sell her cottage. With Tom being an honorary member of the Barrett clan, it's only fitting that he takes charge of the reno as his first major project on his own after years in the business. Darcy expected to want to run and hide when the demolition began but she didn't count on her feelings for Tom to keep her grounded. Or the pride she feels with helping the team bring the cottage back to its past grandeur. As Darcy relives the history of her grandmother's colorful journey, she slowly gets her own life back too. But will the one thing she's always craved–a relationship with Tom–be in the cards for them?
"You are perfect, Tom Valeska. Perfect for me. Do you want me, even though I'm hardly worthy?"
Lightning flashes. "I've wanted you my whole life."
"Then have me. Choose me."
99 Percent Mine proved that there will be no sophomore slump for author Sally Thorne. After such a talked about debut as she had with The Hating Game, I was a little worried. But this romance filled with comedy, unrequited love, sibling rivalry, and breathtakingly raw emotional moments captured my heart right away.
'I think I met my ideal man when I was eight, and no one else has ever measured up.'
As one of my favorite new authors of 2016 with her debut of The Hating Game, I was looking forward to Sally Thorne's next book–but with some trepidation. I mean, how could she create the same magic with similar awesome bantering, the hilarious moments between the hero and heroine, and the intense feelings scattered throughout the story? 99 Percent Mine turned out to have the same kind of feel to it but without being a carbon copy or formulaic.
The situation was very different here, with this being about childhood friends who have cared for each other for years but never really shared any one-on-one time together. And our heroine Darcy, an alpha chick with a sassy mouth, couldn't be more different from The Hating Games' Lucy, a sweetheart of a woman who had to learn to use her inner strength to deal with her coworker Joshua. So some readers may be a bit shocked at first at Darcy's forthrightness and her sometimes surly attitude. But she still had a very caring side to her and her love ran deep for those she latched onto. And it was that protective love she had for our hero Tom Valeska that created so many funny situations as well as the tender, achingly romantic moments between them.
Tom was one of my favorite types of heroes. He was an alpha guy who was fiercely loyal, strong, and would bend over backwards for his loved ones. But, he was also rather introverted, quiet giant of a man. *dreamy sigh* We didn't get to see the story from his POV, as this was written strictly from Darcy's viewpoint, but Tom's feelings came through loud and clear. I loved that Thorne added even more tension to his and Darcy's relationship because he was her twin brother Jamie's best friend. So they kind of fought over Tom's attention which was ridiculously funny and super charming somehow. That sibling rivalry seemed genuine, as did Jamie and Darcy's concern for each other through the challenges they faced down alongside Tom with the renovation, health issues, family problems, etc. But the ending…O.M.G. Perfection. All of the characters found at least a HFN in the quirky manner you would expect from Thorne's work.
A completely modern and engaging contemporary romance that will have you laughing outright, 99 Percent Mine was a 100 percent enjoyable new novel by Sally Thorne. If you like offbeat characters and lots of heat in your love stories, then this one is for you.
Book Info:

Publication: Expected publication: January 29th 2019 | William Morrow Paperbacks |
Crush: a strong and often short-lived infatuation, particularly for someone beyond your reach…
Darcy Barrett has undertaken a global survey of men. She's travelled the world, and can categorically say that no one measures up to Tom Valeska, whose only flaw is that Darcy's twin brother Jamie saw him first and claimed him forever as his best friend. Despite Darcy's best efforts, Tom's off limits and loyal to her brother, 99%. That's the problem with finding her dream man at age eight and peaking in her photography career at age twenty—ever since, she's had to learn to settle for good enough.
When Darcy and Jamie inherit a tumble-down cottage from their grandmother, they're left with strict instructions to bring it back to its former glory and sell the property. Darcy plans to be in an aisle seat halfway across the ocean as soon as the renovations start, but before she can cut and run, she finds a familiar face on her porch: house-flipper extraordinaire Tom's arrived, he's bearing power tools, and he's single for the first time in almost a decade.
Suddenly Darcy's considering sticking around to make sure her twin doesn't ruin the cottage's inherent magic with his penchant for grey and chrome. She's definitely not staying because of her new business partner's tight t-shirts, or that perfect face that's inspiring her to pick up her camera again. Soon sparks are flying—and it's not the faulty wiring. It turns out one percent of Tom's heart might not be enough for Darcy anymore. This time around, she's switching things up. She's going to make Tom Valeska 99 percent hers.