Demanding His Secret Son by Louise Fuller is a sexy second chance romance for a divorced couple whose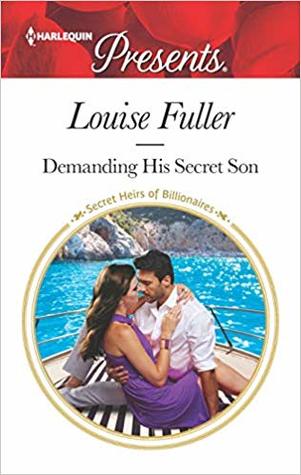 son is the tie to bind them together again.
Teddie Taylor has formed a business partnership with her best friend Elliott to parlay her skills in magic into a money making enterprise. With a contract for a 3 nights a week show at a brand new club, they'll be on their way to some great publicity and more security for her and her three year old son George. But things take a sudden turn when one of her new client's guests is none other than her ex-husband Aristotle Leonidas! He's the last person she wants to see, especially since he doesn't know about the existence of their son.
When Aristotle encounters Teddie at the hotel, it brings up a bunch of unresolved feelings, pain and anger over the dissolution of their six month marriage and his belief that she'd only married him for the money. And it turns out that he owns the hotel where the club is located, so she won't be able to ignore him so easily. When he discovers that they share a child though, it changes everything. Aristo is determined to be there for his son unlike his own father, and insists that Teddie and George accompany him to his private island so that he can get to know his son better. In fact, he wants Teddie to marry him again. But can they fix the wrongs that broke them apart in the first place in order to get a real happy ending?
I enjoyed this reunion romance! Teddie and Aristo's whirlwind first marriage came out of lust and not real feelings, so they never shared anything of real depth and when they spent one last night together and conceived George, they were also at the point where they were both done with the relationship. Teddie tried to contact Aristo about the pregnancy but he had cut off all communication with her, especially after she had taken some money from their joint account and not knowing it was for the baby. As far as Teddie was concerned Aristo was too busy building his hotel empire to want to spend time with his wife and she couldn't live like that anymore.
Their second time around comes with a chance to air out all of their dirty laundry, including the myriads of reasons for the failure of their marriage. They both made mistakes and had strong and understandable reasons for why things happened the way they did, and also what they could do to make things better. The seeds of real love are there and soon make them both think that their marriage could really work if they are willing to compromise. Aristo's care for his son is evident from the start and I loved seeing their relationship develop. I also really enjoyed the heroine's unique occupation! There are some bumps along the road for this couple, but they find their way to a satisfying happy ending complete with a sweet epilogue. It's an enjoyable family themed romance.
Book Info:

Publication: Jan 15, 2019 | Harlequin Presents | Secret Heirs of Billionaires
"You want to get married–again?" He'll do anything to secure his shock child!By the time Theodora realized she was pregnant, her turbulent marriage to Greek hotel magnate Aristotle Leonidas was already over. Since then, she's zealously guarded her secret… Until Aristotle discovers his heir–and demands Teddie marry him again! But even with their chemistry as red-hot as ever, Teddie wants more this time. Now to claim his son, Aristo must reclaim his wife!A reunion romance with a secret baby twist.