A Baby on the Greek's Doorstep by Lynn Graham is an October 2020 Harlequin Presents release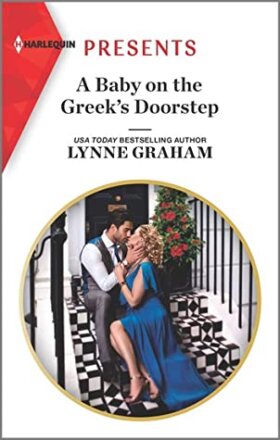 which I was excited to read because I'd just finished re-reading three of Lynn Graham's older books.
A surprise pregnancy is the significant basis of the plot but it is pleasantly accompanied by enjoyable sub plots, of which help form the bricks and mortar of a great foundation to base Tor and Pixie's rocky journey to love.
Baby Alfie is left on Tor's doorstep and it's a cracking way to start the book. How the author fits all the puzzle pieces together is imaginative; the drama is creative and the introduction of a wide range of characters is enjoyable. Coupled with beautiful locations and some exciting secondary characters to create some light drama.
Lynn Graham is the queen of dreaming up hostile characters you love to hate. I thought she did a great job with Pixie's brother and Tor's first wife; they were engaging enough to create interest and friction.
I recommend A Baby on the Greek's Doorstep for all fans of Harlequin Romance, it was enjoyable, had wonderful locations and I enjoyed Tor and Pixie. The Christmas epilogue was lovely and I am looking forward to Book #2 about Tor's brother.
Book Info:

Publication: October 2020 | Harlequin Presents | Innocent Christmas Brides #1
A surprise pregnancy is only the beginning of the rollercoaster in this dramatic marriage of convenience romance by USA TODAY bestselling author Lynne Graham!
He doesn't remember their night together…until he meets the nine-month consequence!
When a tiny baby is left on his doorstep, billionaire Tor Sarantos can't believe his eyes. He's even more stumped when a beautiful woman arrives in a panic, declaring it's their son!
Pixie Miller's horrified her brother has revealed her secret. How can she face the man she shared such intense understanding and reckless passion with, when he doesn't seem to recognize her? But when a DNA test confirms the truth, there's only one solution this powerful Greek will consider…