The Gritty Truth by Melissa Foster is the seventh book in the author's The Whiskeys: Dark Knights of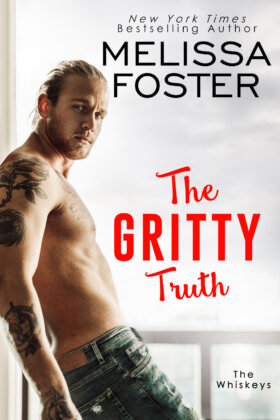 Peaceful Harbor series.
Find a comfy seat where you enjoy reading, maybe include a glass of ice water for all the super hot sexy scenes and definitely include a box of tissues. Get ready to cry sad and happy tears.
Veronica "Roni" Wescott devoted her life from a very young age to a dancing career. She attended Julliard and was dancing with a New York dance company when disaster struck. A car accident ended her professional dancing career. Roni is happy teaching dance classes at the dance studio On Your Toes where she took dance classes as a child. Roni's life changed again when her friend Angela and their friends won her a date with Quincy Gritt at a charity auction. Roni was very attracted to Quincy but wasn't ready to date him. Quincy slowly broke down her barriers by texting her regularly especially as support when her grandmother died. He's such a flirt and oh-so sweet! Since Roni is Quincy's niece Kennedy's dance teacher Roni would see him occasionally when Quincy picked up Kennedy. Finally Roni let down her barriers and the romance and light of Quincy enveloped Roni. Sigh! She never imaged…
Quincy Gritt is a recovering drug addict. The first nine years of his life his older brother Truman helped shield him from the ugliness of their mother's drug addiction. When Truman went to prison for a crime he didn't commit when Quincy was thirteen, Quincy's life really fell apart. That's when his mother dragged him into a life of drug addiction. Now he is two years clean and ready to pursue the woman he has unexpectedly fallen for. There's just something about Roni Wescott that he can't resist. She is different from any other woman he has met. Quincy is sure they are perfect for each other. Convincing Roni to stick with him after he tells her about his past is going to be the hard part to get through.
Ms. Foster writes deeply emotional, rip-your-heart-out stories. This book is no exception. The characters are very realistic and just about jump off the page with their dynamic personalities. The dialogue between Roni and Quincy is insightful and conscience-raising. These types of conversations also occur throughout the book between the two main characters and the secondary characters who care about them. You can feel the love all around. I loved the inclusion of all the Dark Knights and their friends. This is a group of protectors, people who really care. Melissa Foster has a way of putting into words the ugliness of the real world and also the wonder and love of the real world. She writes scenes that tear at your heartstrings and scenes that fill you with warmth. So if you are looking for a hard-hitting story filled with reality and tough times and then wonderful times you have found what you are looking for.
Book Info:

Publication: October 7th 2020 | World Literary Press | The Whiskeys: Dark Knights at Peaceful Harbor #7
A fun, sexy, and emotionally riveting new standalone romance by New York Times bestselling author Melissa Foster. THE GRITTY TRUTH is the perfect love story for those who enjoy fiercely loyal and insanely sexy alpha heroes, smart, sassy heroines, strong family bonds, bikers, babies, and more!
Recovering drug addict Quincy Gritt has fought his demons. He's confessed to his crimes and conquered his addictions. He's finally ready to go after sweet, sexy Roni, the gorgeous brunette who won a date with him in a charity auction five months ago and has been putting him off, and driving him wild, ever since.
Dancer Veronica "Roni" Wescott worked hard to escape the seedy area where she was raised and followed her dreams to Julliard, only to have them shattered in the blink of an eye. She fought hard and regained her footing, but then the rug was pulled out from under her again when the grandmother who raised her passed away, leaving Roni feeling adrift in a world she knows very little about outside of dance. And then there's Charlie Hunnam–lookalike Quincy Gritt—the man whose late-night texts pulled her through her grief and have been setting her heart aflutter for months.
Quincy pulls out all the stops, determined to prove that their friendship is only the beginning of what's destined to be so much more. Romantic nights lead to smoldering passion and a deep connection too strong to be denied. But when Quincy's past comes back to haunt him, can he and Roni accept their new gritty truth, or will Quincy spiral back into the darkness and lose the future he fought so hard to have?
For more Whiskey love stories, check out Melissa's other Whiskey novels.
TRU BLUE (Truman Gritt)
TRULY MADLY WHISKEY (Bear Whiskey)
DRIVING WHISKEY WILD (Bullet Whiskey)
WICKED WHISKEY LOVE (Bones Whiskey)
MAD ABOUT MOON (Jed Moon)
TAMING MY WHISKEY (Dixie Whiskey)
Don't miss RIVER OF LOVE (Sam Braden), the first story in which the Whiskeys were introduced!
The Whiskeys are perfect beach reads with depth of story, strong family ties, and a wealth of emotions. Small town love stories with happily ever afters guaranteed.