A Baby to Bind His Innocent by Michelle Smart: Thinking she has finally found her happily ever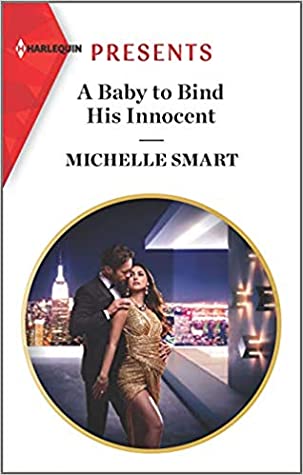 after, having the wedding of her dreams to who she thinks is the perfect man and sharing a magical wedding night together, Claudia is floating on a blissed out high, that is until she over hears her new husband speaking to his brother about non other than her. Now this would not be a problem except what he was saying was not magical at all, turns out the marriage she thought that was for love has all been about Ciro getting revenge.
The last thing Ciro had planned for was to be permanently tied to his enemies daughter, this was just supposed to be a quick get revenge plan. But when Claudia finds out that she is pregnant, neither is able to walk away from the other. With them now actually having to stay together Ciro soon learns that Claudia is not at all the spoiled bratty princess that he imagined her to be. The problem that Ciro now faces is that he was supposed to keep Claudia at arms length but instead he beings to find it increasingly difficult to dampen his desire for his wife.
"You deserve so much more than life has given you and I will regret my treatment of you to my dying day. I am here to ask—beg—you to give me one more chance. Please. I can't breathe without you. I'll accept whatever terms you make but, please, I beg you, let me share your life as well as our baby's life."
I really enjoyed this novel by Smart, I'm a huge fan of the vengeful hero trope. I have to say Smart has really taken the narrative to a nice high, she was not afraid to push the boundaries with how mean she made Ciro. It was also nice for a change to have the lead female character to have such a strong sense of self worth and not back down to the male lead. I loved that Claudia did not just take Ciro back at the first apology and that she made him work for a second chance.
"Nothing in his life was or ever had been better or greater than Claudia"
The thing that really made this book top notch in my opinion was the growth that both Ciro and Claudia went through. We got to see his full journey from being a mean, vengeful, uncaring jerk to a man that was willing and open to admitting his wrong doings and asking for forgiveness. For Claudia I found her determination not to let her dyslexia hold her from improving her literary such an inspiring quality.
Overall A Baby To Bind His Innocent was a stand out novel in the revenge trope. The writing and characters were stand out which allowed me to get lost in this novel. And I have to say the epilogue just tied everything up very nicely.
Book Info:

Publication: June 16th,  2020 | Harlequin Presents |
A marriage built on a lie…
Until her pregnancy test confirms the truth!
Claudia Buscetta is swept off her feet by Ciro Trapani. Their wedding night is everything she dreamed of—but then she overhears Ciro's confession: the marriage was his way of avenging his father. Heartbroken Claudia prepares to walk away from him forever…only to discover she's pregnant!
Driven Ciro is suddenly bound irrevocably to his enemy's daughter! Claudia is far from the pampered "princess" he imagined. And living with her sparks a fierce battle…between his quest for revenge and his burning desire for his wife!