A Bad Boy for Christmas (Second Chance #3) by Jessica Lemmon: When it comes to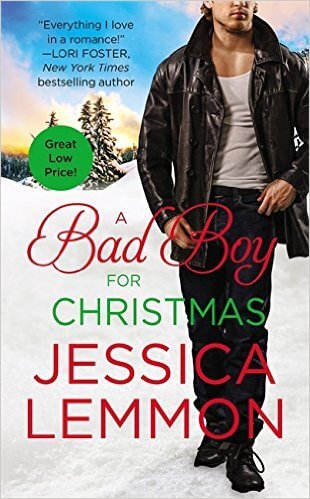 writing a Bad Boy, Jessica Lemmon has the recipe down pat. Even when her Bad Boys are oh so good! I have loved ever book in the Second Chance Series and this one is no exception. This is Connor and Faith's story.
Faith Garrett is getting over the breakup with her ex, swearing to never let another man get close enough to her to break her heart ever again. She is also trying very hard to live her life differently than her famous mother. She never had a normal childhood, no family holidays like the Norman Rockwall paintings, but secretly is is one of the things that she has longed for, but knows that she will never have. There is a flaw in her plans to protect her heart, she feels drawn to Conner McClain and no amount of wishing can keep her from dreaming about the sexy "Beefcake" or wondering what it would be like to be wrapped in his arms.
Connor McClain has his demons. He was lied to by an ex, told that she was carrying his child, and when the truth came out, he ran away and joined the military. The horror and death that he witnessed still haunts him. Living out of boxes, Connors life seems to be frozen in place. When he finds out that someone is stalking Faith, he jumps right in and vows to protect "Cupcake" at all costs.
When he takes her home to share Thanksgiving with his family, showing her everything that she has missed it draws the two of them closer together. But when tragedy strikes one of Connors friends, and he hides within himself pushing Faith away, and Faith pushes Connor away because they are getting too close and she fears for her heart, it will take all of their friends to help them see that they are perfect for each other.
I loved the chemistry between Connor and Faith. They were electric together. Connor had his demons to face, and Faith had her own feelings of inadequacy because of her jerk of an ex. But together they faced those heartaches. The interaction with their friends were really funny, and lighthearted. I loved the protective nature that Connor had for Faith, wanting to keep her safe. I think my favorite scene in the book was the "naughty Christmas tree" that they decorated in the cabin.
If you enjoy reading bad boy stories that have a HEA than this is the book for you. Although it is part of a series, you can read this book as a stand alone and not be lost. I look forward to more in this series and truly enjoy coming back to visit with old friends through this series.
Book Info:

 September 29th | Forever | Second Chance #3
'Tis the Season to Be Naughty
Connor McClain knows what he wants. And after four harrowing years in Afghanistan, that's a quiet life in the lakeside town of Evergreen Cove. But coming home has land mines of its own-the most dangerous of them being long-legged bombshell Faith Garrett. Now getting her into his arms this holiday is going to require more than mistletoe . . .
With a cheating ex behind her, all Faith wants is a relaxing holiday free from man drama. And even though every moment with gorgeous Connor is a sweet temptation, Faith is determined not to give in. But Jack Frost has other plans, and soon Faith and Connor are snowbound in a winter wonderland with only the sparks flying between them to keep them warm. As one hot kiss leads to another, they'll have to decide if they're ready to give each other the best gift of all-love.