Major Misconduct by Kelly Jamieson: When Lovey moves in with her hockey player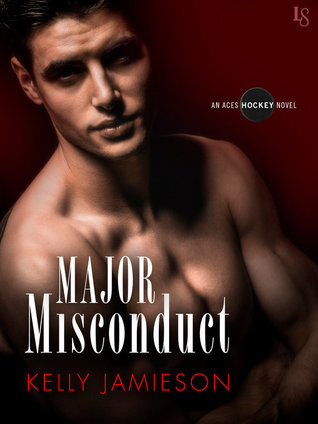 brother and his roommate, the team's captain, Marc, she never would have guessed she'd be falling in love. Sure, Marc is hot and she was definitely tempted by his chiseled abs and pecks, but who would have thought seducing the uptight captain would become a slow, passionate journey to love.
Marc knew he shouldn't. He promised Lovey's brother he wouldn't go there with her, but when she makes it clear she's interested, it's a bit hard to resist the attraction he feels.
"He couldn't get out of there before she'd jumped up and rushed at him with a fucking dazzling smile, so damned gorgeous he couldn't get his feet to move and could barely string two words together."
Behind her brother's back they engage in a passionate affair. And as they get to know each other, Marc's drive inspires Lovey to make a real go of her business plan. And her zest for life inspires Marc to open and have a little fun.
I absolutely loved Marc and his "Captain Codger" ways. How he truly cared about his teammates and the others close to him made him the sweetest guy alive. And, of course, his passion for Lovey made him the hottest guy around.
Lovey was so much fun, but I did feel she was a bit too flighty. I definitely admire her starting her own company and working with what she loves, but, as it says all throughout the story, "What Lovey wants, Lovey gets" and I just don't feel the explanation made up for it enough. I felt bad she suffered as a kid for her brother's passion, but it was still a bit annoying watching her flit through life, and then hurt Marc so much at the end.
Otherwise, the story is a lot of fun, and quite hot between the two. I'd definitely recommend Major Misconduct for any sports romance lover, or anyone just looking for a fun, quick read.
Book Info:

Publication: October 13, 2015 | Loveswept | Aces Hockey #1
In Kelly Jamieson's seductive new Chicago Aces romance—perfect for readers of Sawyer Bennett and Toni Aleo—a fun-loving free spirit tempts an uptight hockey star into opening himself up to love.
As the captain of the Chicago Aces, Marc Dupuis is all business. The apartment he shares with his teammate and best friend, Duncan, is a refuge from the pressures of fame. But when the sexiest woman he's ever seen interrupts his early morning coffee wearing only a skimpy cami and matching panties, Marc can't exactly say he minds. Their chemistry is off the charts. Unfortunately, this girl's no random puck bunny. She's Duncan's little sister—and she's moving in.
Lovey Armstrong could stare at Marc's chiseled abs and listen to his French-Canadian accent all day. She just has no idea what's going on inside his head: When he's not charming her pants off, Marc makes a Zamboni machine seem warm and cuddly. Lovey knows the team's bro code says no messing with sisters, but all these mixed messages are hard on a girl's self-esteem—especially since she's finally getting her new life together in Chicago. She decides he's worth another shot . . . because if anyone can melt the ice around Marc's heart, it's Lovey