In A Beautiful Distraction by Kelsie Leverich, Fallon is the owner of an elite, successful burlesque club. She makes no apologies for who she is or what she does, she has come a long way from the teenager kicked out of her parent's home. Fallon has no inclination to relationships. Sex is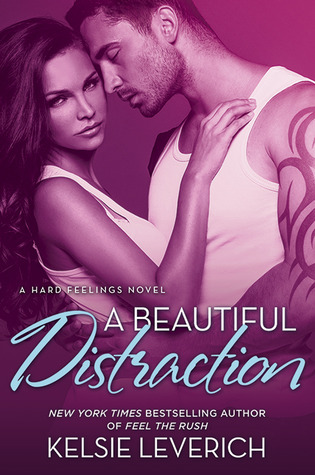 ok, but she has no desire for anything more. She has past secrets she keeps hidden, and outside of work has no close ties with anyone.
Rafe is home on leave from the military. He is lost while on leave, missing the routine and mission the army gives him. He's loved, lost, and never recovered. He's determined to never be hurt again, to never have a commitment to anyone else. But one night at a burlesque club, he sees Fallon. He is immediately and inexplicably drawn to her. When they come together unexpectedly and unconventionally, the chemistry is sizzling! Fallon sees Rafe as the bad boy, the boy she shouldn't want but does. He makes her want to break all of her rules. Soon they are drawn into each other's worlds, they are each other's distraction. Will the walls around each of their hearts open up so it can be more than that? For different reasons, they both harbor guilt and shame over their pasts. And when those pasts come back and confront them, they will have to forgive themselves if they want to have a future together.
Kelsie takes us on an emotional, steamy journey with Trent and Fallon. They are both strong characters with very different family backgrounds, but they complement each other well. Fallon is independent, she wants to be in charge and set the rules. Trent is not all bad boy. He is loyal and caring, and when he sets his sights on Fallon everything she thinks she's ever wanted is challenged. I really enjoyed how Kelsie brings in Trent's family and the interactions with them, the feelings evoked in both Fallon and Trent. It makes them all the more realistic and relate-able. There are a lot of great secondary characters in A Beautiful Distraction who Kelsie uses to write in sub plots that make A Beautiful Distraction about all of Fallon and Trent, not just their romance. These help you see them as individuals, and give us a great look at their characters.
Kelsie manages to keep you interested even as she draws the plot out with smooth writing that flows off the pages. She makes you really feel for Trent and Fallon, and hope for them as they find love unexpectedly.
I'd recommend A Beautiful Distraction to romance readers looking for deep emotions, past scars that need healing, and great characters!
Book Info:

Published May 6th 2014 by NAL Trade
A brand new novel in the New York Times bestselling Hard Feelings series—where nothing's more dangerous than a bad boy with a broken heart…
First Sergeant Rafe Murano did everything to the extreme. He trained harder, he fought harder, and, unfortunately, he loved harder. And falling for the wrong woman nearly destroyed him.
Home from a deployment, and without his missions to consume him, Murano is ravaged by memories of his heartbreak. So he drinks until he's numb and drowns himself in meaningless one-night stands. But they only take the edge off…
Until he meets Fallon.
Haunted by her past, Fallon Kelly knows all too well about the desperate desire for an escape. So when she sees the tatted-up bad boy who's one punch away from a ride in the back of a squad car, she offers a distraction—one that quickly becomes an addiction.
Little does she know, this bad boy can love so hard, it can break her…