In The Promise (Thunder Point #5) by Robyn Carr, Peyton Lacoumette wanders into Thunder Point wondering if she could spend a few months working in the local family practice medical office before moving to a bigger city, or if she needs more hustle and bustle to distract her. Fresh off a messy breakup, she accepts a physician's assistant position from Dr. Scott Grant but ignores her attraction to him. Peyton will not be getting involved with a co-worker ever again. Especially one with children at home. But Scott is the polar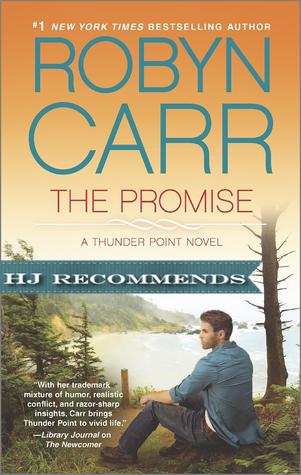 opposite of her ex. He's sweet, honest, and would never lie to her. Or so she hopes. Because the longer Peyton works with Scott, the more she wants to give them a chance at love.
'But what if it wasn't as good as it seemed? What if it fell apart? It would break her heart to pieces because her instincts said she'd found the man she'd been waiting for all her life.'
The loss of Scott Grant's wife brought him to his knees four years ago. Slowly, he's been able to come out of the grief, build a medical practice in Thunder Point and spend quality time with his children. Scott thinks he's finally ready to begin dating seriously. And he knows where he wants to start. With his PA Peyton. But he knows she's been through a tough time emotionally herself. He's more than willing to take things slowly and gain her trust. Their time together, however, is limited as she's only in town for three months. Will that be enough time to prove to Peyton how wonderful they could be together?
He threaded his fingers through hers, held her hands against the wall on either side of her and pressed himself against her. "Feeling you against me…it's the best feeling I know," he whispered.
The Promise is a sweet love story by one of my go-to authors, Robyn Carr. Here, we get a chance to see the good doctor, Scott Grant, finally find some happiness by way of his physician's assistant Peyton Lacoumette.
Thunder Point has been a lovely series so far with likable characters who feel like friends at this point. Of course we get the details about what's going on in town and how everyone is doing now, which was great. I found book five to be every bit as engaging as the previous ones, although this was not quite as dramatic as some, like with Devon & Spencer in The Hero, book three.
Instead, I thought Scott and Peyton's relationship built slowly from a new friendship to a love filled with passion and urgency. They were really quite cute together, almost like high schoolers at first while they were getting to know one another. But they did have a bit of a misunderstanding when they met, which influenced how they viewed a potential hook up and complicated matters for a while. Don't worry…it all works out!
I liked Scott as much as I knew I would from the little snippets we see of him previously and I'm so glad he gets his HEA. His kids are just way too cute and very, very well behaved, may I add. So it was only fitting that Peyton, who loves kids, came along and found her way into their lives. She was the resistant one in the relationship, having been through that tough breakup just prior to moving to Thunder Point. But Scott was the perfect man to help her heal and learn to trust again.
I would recommend The Promise to romance lovers out there who like slow burn stories set in beautiful coastal small town settings.
Book Info:

Published June 24th 2014 by Harlequin MIRA
#1 New York Times bestselling author Robyn Carr returns to Thunder Point with an uplifting story about overcoming loss and finding unexpected love
Scott Grant has a bustling family practice in the small Oregon community of Thunder Point. The town and its people have embraced the widowed doctor and father of two, his children are thriving, and Scott knows it's time to move on from his loss. But as the town's only doctor, the dating scene is awkward. That is, until a stunning physician's assistant applies for a job at his clinic.
Peyton Lacoumette considers herself entirely out of the dating scene. She's already been burned by a man with kids, and she's come to Thunder Point determined not to repeat past mistakes. When Scott offers her a job, at a much lower salary than she's used to, Peyton is surprisingly eager to accept…at least for now. She's willing to stay for a three-month trial period while she explores other options.
Scott and Peyton know the arrangement is temporary—it isn't enough time to build a real relationship, never mind anything with lasting commitment. But love can blossom faster than you think when the timing is right, and this short visit just might hold the promise of forever.