A Bicycle Built for Sue by Daisy Tate: This beautifully written British drama, tackles some heavy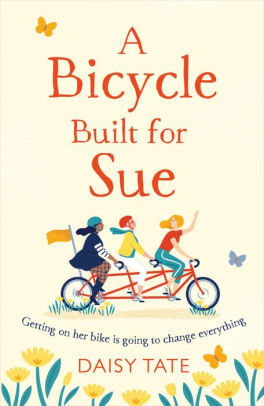 home truths whilst remaining gentle enough to encourage folk to reach out to their loved ones and offer support in times of darkness.
Content with her ordinary tea and biscuits routinised life, Sue Young is flung into the throws of shock and grief when her husband Gary suddenly commits suicide, having previously shown no signs of depression or mental health struggles. It becomes evident fairly quickly, however, that Sue has little to no support from her family who appear more preoccupied with getting on with it in a type of 'stiff upper lip' way, rather than supporting her through her tremendous loss. Interestingly enough, it is her colleagues at the NHS call centre where she works that become her lifeline, and so it is only natural that the three women develop a lifelong friendship built on trust, loyalty and support when committing to a cross country bike ride to raise money for a mental health charity driven by Kath, a breakfast TV presenter.
Despite the fact that all three women are at very different stages in life; Flo in her early 70s desperate to remain youthful and adventurous, Raven, taking a gap year whilst avoiding her micromanaging parents, and Sue needing support and friendship during the most difficult time of her life, all three bond deeply as they journey through far more than just the English countryside together.
Despite having never walked in their shoes, the characters were entirely relatable and this can be accredited to the inherent care each was shaped with and the vulnerability each had to reluctantly reveal in order to move forward as they embraced the unknown.
In a world where everyone seemingly has a lot to say, it is fundamentally ironic that no one is really listening, and this key theme spoke volumes about our modern disconnection and dislocation. Some solid wisdom was provided via the growth and change within the characters and whilst the first part of the narrative was a little slow, it was by and large necessary in order to contextualise the characters, shape their motivations and provide solid footing from which each could flourish. Similarly, the side characters also play a major role in helping each of the three women self-actualise and some sub-themes, particularly around mens mental health and the social vulnerability of our service men and women were delivered with sensitivity.
Whilst a Bicycle Built for Sue stares bravely down the barrel of some very real and very important social issues there is enough lightness and levity that the gruelling adventure into the human condition was made achievable and without doubt, necessary. I highly recommend you grab a strong cuppa and a bunch of tissues before you start peddling through this one, as this is in no way as simple as getting back on a bike, but definitely all the more rewarding for what you learn along the ride.
Book Info:

Publication: 11 June 2020 | Harper Collins |
Sue Young has never asked for much apart from a quiet life. She's always been happy with her call centre job and dinner on the table at six o clock; that was until her husband's suicide tore her tranquility into little shreds.
With her life in tatters, Sue is persuaded to join a charity cycle ride led by Morning TV's Kath Fuller, who is having a crisis of her own, and Sue's self-appointed support crew are struggling with their own issues. Pensioner Flo Wilson is refusing to grow old, gracefully or otherwise, and a teen goth Raven Chakrabarti, is determined to dodge the path her family have mapped out for her.
Can the foursome cycle through saddle sores and chaffed thighs to a brighter future, or will pushing themselves to the limit prove harder than they thought?