Out of the Storm is the first book in Author B.J. Daniel's new series, Buckhorn, Montana.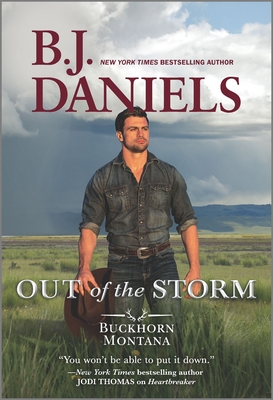 Kate Jackson lost her husband Danny nearly twenty years ago. There was an explosion at the refinery where he was working. Many died. Not all remains could be identified. The authorities found Danny's wallet in the debris of the explosion so they declared him as one of the unidentified dead. Kate never believed Danny was dead. She thought he had amnesia and was out there somewhere. Kate was sure she would have felt it if he did indeed die that day.
Now she has agreed to become engaged to Collin Matthews. Everyone insisted it was more than time to move on with her life. Collin planned a surprise trip and wouldn't tell Kate where they were headed. Their car broke down just outside Buckhorn, Montana. It was to take a few days to get the part needed to repair their car. Perhaps fate was behind the car breaking down where it did. Kate's life changed drastically in Buckhorn.
Ms. Daniels is known for her excellent suspense stories. She tells a good one in this book. Her characters in this story are well-developed. Her good characters are very likable. The bad characters made me grind my teeth in frustration when they would get away with their evil deeds. The storyline is full of action and Ms. Daniels keeps the mystery alive. I enjoyed trying to solve it. There are some interesting surprises to entertain readers.
As this is a new series I enjoyed getting to meet the people of Buckhorn. There are some quirky characters and some mysterious ones. I am looking forward to reading about these characters again in the next book in the series.
Book Info:

Publication: December 29th 2020 | HQN | Buckhorn, Montana #1
She can't lose him again…
One look at his warm brown eyes and Kate Jackson knows she's found her husband. It's been twenty years since Daniel was declared dead in a refinery explosion, but Kate never gave up hope, convinced he was somewhere out there, suffering from amnesia. Then, on a trip to Buckhorn, Montana, she sees him—working as a carpenter, scarred, but still her Danny. Yet Jon Harper, as he calls himself, insists he's a stranger.
Jon is certain he's not the man Kate's looking for. Though some of his memories are lost in shadow, how could he ever forget a woman like that? One thing Jon's instinct does tell him is that she's in danger from the very person she should trust most. Helping loyal, lovely Kate will mean exposing his own perilous past…but it's the only way to protect her and this new chance at forever…