A Billionaire for Christmas by Janice Maynard: Phoebe Kemper awaits her new renter with trepidation. She knows that Leo Cavallo is the CFO of Cavallo Textiles, and knows he's a rich and powerful man. When his sister made the arrangements for Leo to rent out Phoebe's cabin, she was also told that he'd just been ill. Sketchy info at best, and it would've been okay – except there's been a huge accident on her property. The cabin is unrentable, so she has to tell him he'll need to find a new place to stay during his sabbatical .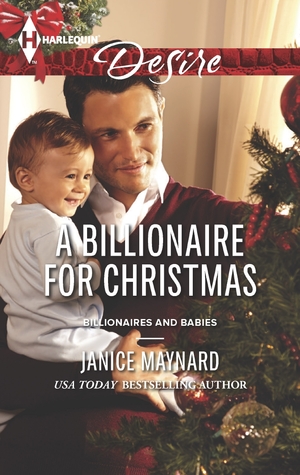 Leo's at the end of his tether – which isn't a good place to be at the moment since he's been ordered to relax and take it easy for a few months. He's very type-A and he isn't looking forward to this "vacation". It doesn't help that he had to drive from Atlanta to the foothills in Tennessee in the middle of a snowstorm – he's beat and cranky, and he just wants to get to his rental and pass out.
The circumstances have thrown them together in Phoebe's main cabin – his doctor/family-ordered exile, the destruction of the rental cabin, and no other properties available to rent long-term. So they make a deal – he'll stay with her and help her deal with the details of fixing things, while she looks after her nephew. She loves that she gets to spend time with her sister's baby, but it was an added complication that was making things difficult for her. Perhaps Leo was destined to stay and help her during the Christmas holiday after all.
Leo and Phoebe are attracted to each other, but was it their forced proximity that prompted the feelings of lust they both had? Leo didn't think so, and neither did Phoebe, but having a fling isn't really the best idea under their current circumstances. Leo's not sure if taking her to bed as he wants will put a strain on his physical condition – but he definitely won't be confiding in Phoebe about that. And Phoebe has locked herself in her remote mountain home to heal some pretty deep wounds. Is she ready to open herself up to being hurt again?
I really liked this story. It was quite heartwarming, and I was a bit surprised as this is a HQ Desire title. There was some heat, but it wasn't as steamy as the other Desire's I've read. But it was truly a lovely story. I found myself rooting for the main characters to talk to each other and take comfort in each other, but I also wanted them to rip each other's clothes off and get it on. Several times they were so close to falling into bed only to be c-blocked at the last minute.
Lovely story of two people learning to live their lives a new way by becoming friends and lovers.
Book Info:

Published December 3rd 2013 by Harlequin Desire (Book 2271) | Billionaires and Babies
All business, all the time, is billionaire Leo Cavallo's motto. So two months of forced relaxation is certainly not the CEO's idea of a Christmas bonus. Then he meets his neighbor, the irresistible Phoebe Kemper, and a storm forces them to become roommates. Suddenly, the holidays are looking a whole lot brighter.
But beautiful Phoebe isn't living alone. She's babysitting her infant nephew. Somehow, playing temporary family is surprisingly appealing. But what will Leo choose when it's time to go home?